Lately many websites began to display interactive advertisementsThat runs automatically videos s / saui sounds soon as these sites are accessed. This can get irritating, especially if you used to work with a relatively large number of tabs and must identify which tabs they come from diverse sounds to stop them. Luckily browser Chrome (And other browsers based on Chromium) Have recently been symbols for soundsSo that users are much easier to identify what these tabs are active. But if we have multiple tabs with Sound on, Opening them one by one and stop sounds can be quite time consuming, the simplest solution in this case is close those tabs (and when we need information from the respective tabs, closing them is not a solution at all).
If you are using Chrome can solve the problem sounds in inactive tabs with a extensions for this browser, namely Mute Inactive Tabs. With this extension users can automate the turn off the sounds from inactive tabs in Chrome, Thus nemaitrebuind separately identify each tab running these sounds.
How does Mute Inactive Tabs?
After installing the extension, it places a new icon between address bar si browser menu, With which users can stop and to start with one click sounds in inactive tabs.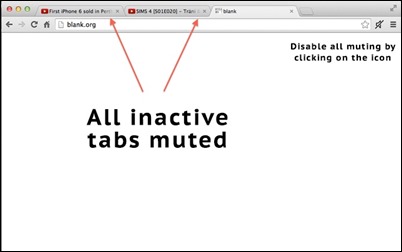 extension Mute Inactive Tabs works for most interactive advertising (e.g Flash ads) and for videos available on such websites and YouTube or Daylimotion. For some sites (eg YouTube), Extension automatically put break videos, which can then be run exactly where they were stopped. For other sites, extension Flash content loading blocks (Audio and video clips will be run automatically when tabs they contain will become active).
Download Mute Inactive Tabs (Chrome extension).
Note: Mute Inactive Tabs extension is compatible with most video sites Flash, but there are exceptions where it did not work (not stuck running video).
STEALTH SETTINGS - How to automatically turn off sounds in inactive tabs in Chrome browser
How can we stop automatically sounds for inactive tabs in Chrome browser