Official support for Windows XP ended on April 8 2014, microsoft ceasing at that time to stop offering Security updates for standard users You said operating system. However, some companies which have not yet managed to upgrade computers to Windows systems May we continue to receive security updates surcharge.
If you are User XP and you can not (or do not want) to upgrade to a Windows higher (Windows 7 or Windows 8), We have good news for you Windows Embedded Industry (Formerly called Windows Embedded POSReady) is a operating system also developed by microsoft for use in cash registers, ATMs gender or other devices. This operating system-based Windows XP SP3, Has 5 more years of support Microsoft, up to date April 9 2019, During which will receive further Security updatesThey are identical the updates that Microsoft would be released for Windows XP. If you want to extend support for Windows XP and benefit from Security updates for it by 2019, You will find further instructions on how to do this.
How can we get security updates for Windows XP until April 2019?
open a text file new (Notepad)
copy the following lines and give them pasta text file previously opened
Windows Registry Editor Version 5.00

[HKEY_LOCAL_MACHINE \ SYSTEM \ WPA \ POSReady]
"Installed" = dword: 00000001
save the file that the extension .Reg (If you can not save it than that . Txt, Then change the extension in .Reg)
then double-click on the. reg created confirm adding the information contained herein in registry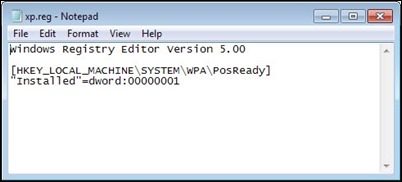 If you wish to make manual changes in Registry System, open registry Editor (type: regedit in Run and gave Enter) And navigate to HKEY_LOCAL_MACHINE \ SYSTEM \ WPA. In WPA create the key POSReadyThen in the right pane (under POSReady) Create DWORD entry Installed which give it value 1.
After you make these changes Registry System Windows XP, Security updates can pass restrictions imposed by Microsoft, and users will be able to install these updates on the systems used.
Note: This method of extending support for Windows XP is compatible only with 32-bit versions. We recommend creating a restore point before making changes in order to avoid possible system errors.
STEALTH SETTINGS - How to extend Windows XP support untill April 2019
How can we extend support for Windows XP until April 2019