When upload more photos same time FacebookThey are arranged in an default according to name. Once uploaded, contact friends list can see in News Feed donate first group photos uploaded, they need access to the entire List of photos to have access to all photos uploaded. If the group of photos you want to upload the Facebook you have some photos you want to be displayed first, but they are randomly arranged Facebook (in the middle or at the end of the list of photos uploaded) because of their names, you can rearrange the order of upload photos those with the 's feature drag & drop included in Facebook (in this way will not have to rename photos to ensure that they will be listed in order of preference after upload).
How can arrange the order in which photos uploaded to Facebook will be displayed after upload?
log on Facebook accountthen upload photos choice using either the form of chamber displayed in the field Update StatusOr using tab Add Photos / Video

add all the photos you want to upload (use key Ctrl to select multiple photosThen click on Open) Without giving but click the button Post
after upload photos you will notice that they will be displayed depending Facebook name; using drag & drop, you can rearrange the order them (this is the order in which the photos will be displayed after post)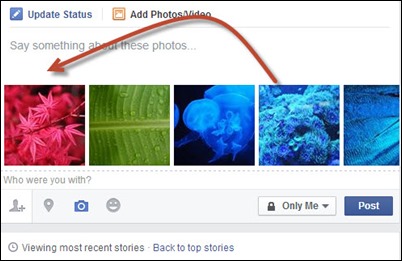 after that you will be satisfied with the order in which the photos will be uploaded displayed in Facebook, Click the button Post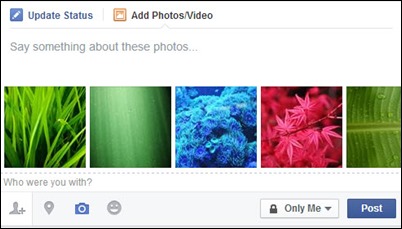 And that's it. This way you can rearrange the order in which photos uploaded pe Facebook at the same time will be Show in News Feed and on Timeline Your Success!
Note: You can use the scroll bar to get to the last picture uploaded in the group (before posting photos) in oarice case, if the group contains a large number of photos, you have to repeat the action of drag & drop several times to move a photo to the desired position.
STEALTH SETTINGS - How to rearrange the order of displaying uploaded photos in Facebook
How can rearrange the order of photos uploaded to your Facebook account