When Facebook introduced Timeline instead wall of the classic, The tabs available in the right sidebar under profile picture (e.g Info, Photos, Friends, Notes) Were moved immediately below Cover Photo. In addition, their number increased, the added tabs in November such as Music, Movies, Books, Groups, Events and so on Among them are only visible permanently tabs About, Photos si FriendsThe remainder being grouped under the tab More. But these tabs are available in the form of sections in Sidebar displayed to the left of the Timeline.
If you wish to change the order of tabs grouped under More to have faster access to sections used more often, and also if you want to hide certain sections because they are not visible from the timeline, you can do so by following the instructions below.
How can we rearrange the order of tabs in Facebook Timeline (and sidebar sections displayed in the Timeline)?
Login to account Facebook and open timeline
under Cover Photo click on the tab MoreThen, in the bottom of the menu displayed, click on Manage Sections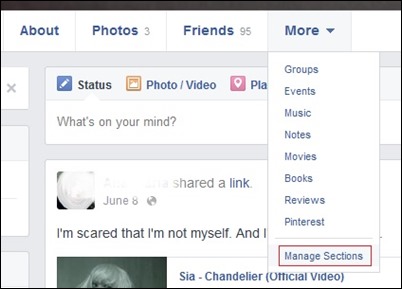 window Manage Sections list you will see all sections Available displayed randomly
to hide the display of certain sections in TimelineSimply uncheck these sections (these will not be displayed nor under tab MoreOr in Sidebar from Timeline)
to rearrange the order of sections, pull them and place them in the desired order
After you make the desired changes, click on Save for them to take effect
And that's it! In this way you can rearrange the order of sections displayed in sidebar Timeline and under the tab More (Cover Photo below).
Note: Please note that updates made to the hidden from Timeline will still appear in News Feed and can also occur in the timeline (to hide the Timeline, click the down arrow displayed in the top right corner of the update and select Hide from Timeline).
STEALTH SETTINGS - How to reorder tabs and sections in Facebook Timeline
How can we rearrange the order of tabs and sections of the sidebar in Facebook Timeline