A few days ago a user Stealth Settings asked us (with his words, but that we understood) if there is any possibility of To reset the Default Programs in Windows. His problem goes like this:
several days on all desktop icons have the same symbol (ie google chrome) and all applications and games actually start google chrome, I tried to change the start an application, for example winamp, but as I changed icon in winamp, all desktop icons have changed in winamp
Recognize the situation? I for one admit that when I first happened to me I asked a friend about 3 days to reinstall my system. And probably many users who faced this problem still believe that Reinstalling Windows is the only solution. Well, it is not. Solving, although it may take longer (in some cases) than a fresh reinstall of Windows (so yes, boring), is very simple.
How can we reset the Default Programs or how to set default programs that open files of different types in Windows 7
click on Default Programs in Start Menu (If you customized Start Menu and you took this option, type default Programs in Search Programs and Files or open control Panel and navigate to Programs> Default Programs) Then click on Associate a file type or protocol with a schedule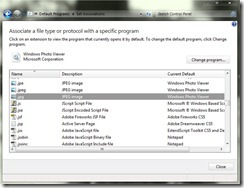 then select a specific file type (ie by extension) And click on Change Default Program
the open car window, if one is displayed and the program (s) fit (s) for the selected file type, click on it and then click OK. If the program you want / need is not among those displayed, click on Browse then navigate to installation folder thereof, select it and click Open.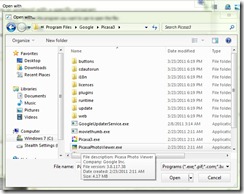 repeat for each file which you want to change its default program.
You can also change the default programs in Windows 7Surfing the Control Panel> Default Programs> Set your default programsThen selecting the default programs to open certain types of files (the method can be a little faster if you have nothing to match the different files to open with the same program, for example gif, png si jpg round. Windows Viewer).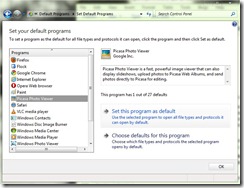 If these two methods you find that you eat too boring or too long, you download fixes you need the Seven Forums.
Note: Users can change programs XP and Vista default Start Menu> All Programs (in XP) / Default Programs (in Vista)> Set Program Access and (computer) defaults, then selecting one of the options:
Computer Manufacturer (If you bought your computer with Windows installed, this option will reset the default programs that have "come" bundled with your computer)
Microsoft Windows (Default will be selected programs only make programs microsoft)
Non-Microsoft (Default programs will be selected only from programs that do not bear the signature microsoft)
Custom (You can select what you want as default programs for different types of existing files in your computer)
STEALTH SETTINGS - Reset Default Programs in Windows 7
How can we reset the Default Programs for different types of files in Windows 7