For users operating systems OS X, dock is about the same thing is Quick Launch's (Or Taskbaracquis) for users Windows. Also, it may be custom cu shortcuts for different applications or folders depending on your preference. Unfortunately (in contrast to the system iOS), dock in OS X not comes with option reset it to its settings default. If you are using Mac OS X and you want to restore default settings (including shortcuts default) go dock's for various reasons (it became too crowded, many shortcuts not working properly etc), you can do so by following the instructions below.
How to reset the OS X dock to settings default?
open utility Port (Terminal type in Spotlight or open Finder> Application> Utilities> Terminal)
First open the command window type default delete com.apple.com and press Return to execute
then type the command killall Dock and press the button again Return to restartof the dock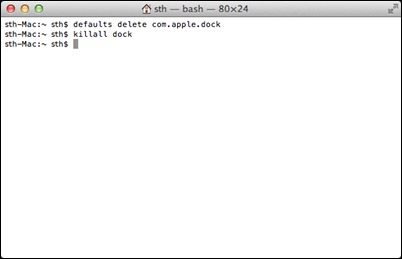 After you use the above commands, you will notice that the dock in your OS X system has been reset to settings default (Settings with which it came immediately after installing the system).
Note: If you have uninstalled any application default from OS X which initially had a shortcut in the dock, the dock will display a "?" instead after resetting. If you want to reinstall the application, click on?, If not, simply delete the respective sign from the dock.
STEALTH SETTINGS - How to restore dock to default settings in OS X
How to reset the OS X dock to settings default