If used to save different passwords in Firefox and do not want them to be discovered by other computer usersIs enough to set a master password (Master Password), Without which none of the other passwords will not be visible. The only inconvenience may occur if master password will be known by third parties or if that you forget the password, In which case you will not be able or access remaining passwords. If you are in one of these situations, it is necessary reset or recover the Master PasswordAs appropriate.
How can reset Master Password in Firefox
! Remember that if you reset the master password in Firefox, all passwords stored in them will be deleted!
To reset Master Password in Firefox give Copy / Paste following line address bar browser:
chrome :/ / pippki / content / resetpassword.xul
You will receive a message to warn that master password reset will erase all passwords stored in the. To complete the reset process, click on reset.

How can we recover the Master Password in Firefox
If you forget your master password, but do not want to reset, FireMaster is a free utility who can help recover password via different algorithms. FireMaster generate passwords by various methods such as the dictionary, hybrid methods or bruteforce. Specifying certain parameters about master password (no characters or letters / numbers / symbols contained), it can be retrieved more quickly.
How to use Firemaster?
First you need to familiarize yourself with the following information before you can reset the password:
Firemaster commands to reset Master Password
[-Q]
[-D-f <dict_file> [Firefox_Profile_Path]]
[-H-f <dict_file> [-n <length>] [-g "CharList"] [-s |-p] [Firefox_Profile_Path]]
[-B-m <length> it <length> [-c "CharList"]-p "pattern" [Firefox_Profile_Path]]
Examples:
FireMaster.exe-d-fc: dictfile.txt Firefox_Profile_Path
FireMaster.exe-h-fc: 3 dictfile.txt-n-g "123"'m Firefox_Profile_Path
FireMaster.exe-q-b-c-m 3 "ab12" it 10-p "pa?? F?? 123" Firefox_Profile_Path
where Firefox_Profile_Path is the path to the folder that contains file that is stored master password (Key3.db). This is in personal folder> App Data> Roaming> Mozilla> Firefox> Profiles> [nume_profil]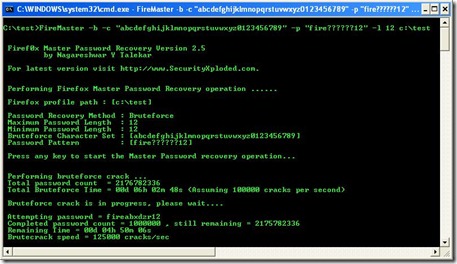 -Q Quiet mode. Disable displaying the messages crack during operation

Dictionary Crack Options:
D Perform dictionary crack operation
-F Dictionary file with words on each line
Crack Hybrid Options:
-H Perform operation hybrid crack passwords using dictionary
Hybrid CAN find crack passwords like pass123, 123pass etc.
-F Dictionary file with words on each line
-G Group of characters used for generating the strings
-N Maximum length of strings to be generated using character list above
These strings is added to the dictionary word to form the password
Suffix-s chars generated the word to the dictionary (pass123)
-P prefix the generated chars to the dictionary word (123pass)

Bruteforce Crack Options:
-B Perform bruteforce crack
-C Character list used for bruteforce cracking process
-M [Optional] Specify the minimum length of password
Specify the maximum length I of password
-P [Optional] Specify the pattern for the password
For more detailed information on how to use the application FireMaster to recover the Master Password in Firefox read file READ ME inside the archive or go to this link.
Note: FireMaster is compatible with all versions of Firefox.
How can we reset or recover Firefox Master Password