Many users who are used to and customize Windows operating systems replace and default fonts thereof; custom fontsIn an attempt to get a more original look. Unfortunately, the use of custom fonts in a Windows can grow long enough during system bootAnd also hampers functioning thereof.
If you use and custom fonts on your system Windows and have noticed that it starts and responds to commands rather difficult, the best would be to restore default system fonts and remove third-party fonts installed (of course, before you try to make cleaning Startup, temporary files si Registry System).
In Windows 7 si Windows 8 is simple enough to reset default font settings (Assuming the default system fonts were not deleted - accidentally or intentionally):
enter font settings in Start Menu or Start Screen and click on the result Change Font Settings
Then open window control Panel, Click the button Restore default font settings
In case of default fonts of Windows have been removedThey may be restored using one of the following:
or copy the folder cu default fonts of Windows the other PC (Preferably a PC that was not system changes; Also, it is mandatory that copy version default fonts to be the same version of the system that you want to restore) directory C: \ Windows \ Fonts (where C: \ it is system partition)
either use a iso cu setup files the system (or Installation DVD, Or Bootable USB Stick) As follows:
extract content ISO image (use 7zip)
then download and run the application GImageX
select tab Mount in application
create a empty folder server, then select that folder as the location of the installation (Mount Point) Of application (in that folder will be extracted installation files, make sure before you enough storage space available)
then select install.wim into law source and click on Mount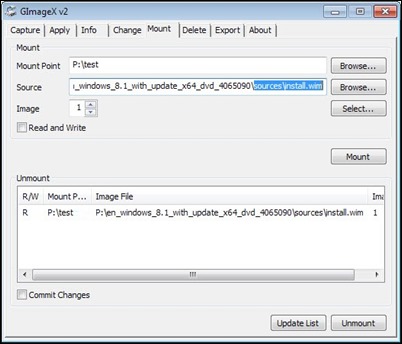 After which system files will be installed (the process will take several minutes), open the folder Windows \ Fonts fonts and copy it in C: \ Windows \ Fonts
If after you restore default fonts want to remove custom fonts installed in the system, you can use the application Font Frenzy (option DeFrenzy).
STEALTH SETTINGS - How to restore default fonts in Windows
How can we restore the default fonts in Windows