Many users Windows 8.1 have problems with delayed reaction (lag) to mouse in particular games installed in the system, which causes confusion, especially if these problems were not of the same games on earlier systems such as Windows 7. Fortunately for those users, this is both a explanation, And a solution.
Unlike previous systems, Windows 8.1 works much better (visually) on displays with high resolution (high-DPI), Which change including how the operating system interacts with mice. Games that do not read directly data transmitted by mouse (raw input) And take into account settings Sensitivity thereof as are dictated by the system encounters problems such as lagBlocking or stuttering when it comes to mouse movements (Especially true for gaming mice). The problem can however be solved by means of a Registry hack (It will be repeatedly for each game in hand which shows the problems described above).
How to get rid of the maouse lag in the games from Windows 8.1?
open registry Editor (type: regedit in Run and give Enter)
navigate to HKEY_LOCAL_MACHINE \ SOFTWARE \ Microsoft \Windows NT \ CurrentVersion \ AppCompatFlags \ Layers (If the key Layers no, you create it: right-click AppCompatFlags and select New> Key)
under LayersOn the right, create a String input which will named according to exact path by executable game presenting problems (eg, if location executable is C: \ Program Files (x86) \ Game \ game.exeIt will also be name which will give him entry created String)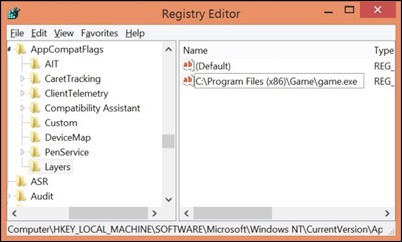 then modify the value String entry created NoDTToDITMouseBatch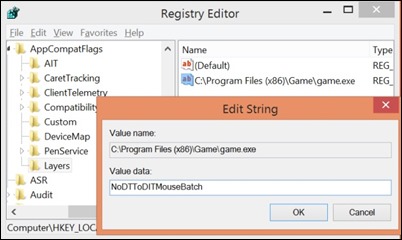 repeat instructions above Every game presenting problems lag
After you finish created String inputs for games, open a Command Prompt with privileges administratorAnd type the command Rundll32 apphelp.dll, ShimFlushCache (Required for compatibility)
And that's it. After you make these settings, Your games will not have problems with lag, stuttering or mouse lock.
For those who do not want to make these changes manually, Microsoft products launched a patch, namely KB2908279That solves compatibility issue for different Popular games such as Call of Duty, Counter Strike, Half Life or Tomb Rider. It can be downloadBoth in version 32-bit, as well as 64-bit, On Microsoft website. However, for less popular games, you should use Registry hack described above.
Note: If you are a laptop user, it is recommended to use a registry hack for games that lag problems, because it increases energy consumption (battery life will be noticeably affected). Before you make any change in the system registry, make a backup of them, or create a restore point system to avoid possible errors.
STEALTH SETTINGS - How to fix mouse lag in games in Windows 8.1
How to solve the mouse lag in games in Windows 8.1