One of changes brought Windows 10 is that modern applications (or Windows Store apps) Runs now desktop, in window mode. While this is an advantage in most cases (in this way can be much faster switching between applications, especially in Windows 10 inclusive modern applications can be attached on the Taskbar), If for some reason you want to run an application in full screen modeMost likely many of you still have not figured out how I can do this (full screen not included in control options of modern applicationsDisplayed in the upper right corner of them, and the application will continue to run in window mode - What is the right one almost as screen - even if we use option maximize).
How to run modern applications in Full Screen Preview in Windows 10?
Beside control options (minimize, maximize, close), Modern applications include another menu, named App CommandsAvailable in the upper left of them. The menu can be opened by clicking on the three horizontal dots shown next application iconPoints that can be easily overlooked by users (if do not know what and where to look).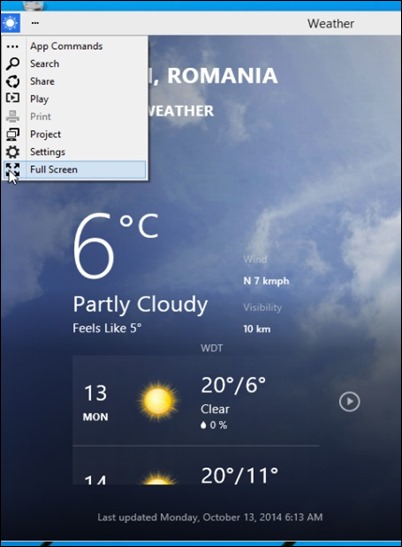 menu App Commands includes options Search, Share, Settings (These options replace those of Charms menu from Windows 8), Play (Allows running the application on another device) Project (Displays design options available in the system) and Full Screen (Using this option, users can run applications in full screen modeWithout the titlebar the window or Taskbar to be displayed).
If you run a modern application in full screen and want to return to window modeMove your mouse to the top (far) screen to display titlebar the application, then click on icon Menu App Commands and select from these options Exit Full Screen.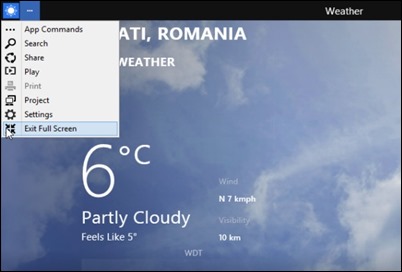 Included in menu options App Commands (inclusive Full Screen) Are not kept in mind the system, so modern applications will run every time will be launched default settings (Ie applications will run in the default mode windowsEven if you were previously run by users in full screen).
STEALTH SETTINGS - How to run modern apps in full screen in Windows 10 Technical Preview
How can run modern applications in full screen in Windows 10 Technical Preview