If user snteti OS X and you want to change the user name used Mac supplied or check the system works properlyYou can do this by forcing the system to Setup wizard running again (Setup Assistant) That normally is run immediately after (re) install OS.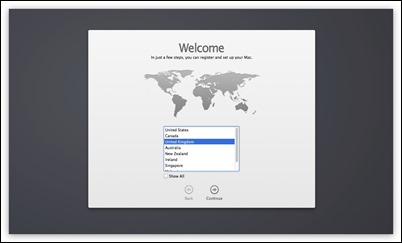 How to force OS X to run setup wizard again without reinstalling the operating system?
boot into how Single-user (Command-line) keys pressed tinanad Control + S keyboard when booting
After booting in command-line, Type the command -uw mount /to mount system as read / write (By default this is just read / only)
tap on all the queries to delete settings system performed the Running Initial Setup wizard and to delete user you want to replace:

rm - R / Library / Preferences
rm - R / Users / user-name(Which replaced user-name Your name Actual User)
rm /var/db/dslocal/nodes/Default/users/user-name.plist (Which replaced again user-name with your user name; e.g, stealth.plist)

then delete the file created OS X After running the Setup wizard command rm / var / db / .AppleSetupDone
After entering these commands, reboot (Use the command reboot) And you will notice that Mac you will boot normally (if you had problems before boot), but after booting it will run the Setup wizard again. Success!
STEALTH SETTINGS - How to re-run the Setup Assistant in OS X without reinstalling the system
How can run again in OS X Setup Assistant to reinstall the system without