The clipboard is a very easy way to quickly copy a text or image From a webpage, for example, in a notepad or wherever we want to paste it.
Universal Clipboard, Is a feature introduced by Apple, with MacOS Sierra si iOS 10, Which allows us to do it Copy / paste text or image between iPhone, iPad, and Mac. Specifically, text copied to your MacBook will also be present automatically in the clipboard on your iPhone or iPad where we can paste it. Easter. So, to be able to use Universal Clipboard you must have the minimum MacOS Sierra and / or iOS 10. Mobile devices Apple compatible are: iPhone 5 (Or newer), iPad Pro, iPad (And 4-a generation), iPad Air (Or newer), iPad mini 2 (Or newer model), IPad touch of the 6 generation (or newer). In the range of computers and laptops Apple Compatible with Universal Clipboard we have: MacBook (Started 2015 or newer) MacBook Pro 2012 (Or newer), MacBook Air 2012 (or newer), iMac 2012 (or newer), Mac Mini 2012 (or newer) and Mac Pro (Final 2013).
To the delight of the users of ideas Apple, this feature will also be mentioned on future operating systems High Sierra si iOS 11.
Synchronization between compatible devices is via the interface iCloud. You must have the same authentication Apple Device ID.
How to Activate Universal Clipboard on iPhone, iPad, and Mac
Universal Clipboard holds the function called Handoff, By which they are sicronizate more items between devices Apple on which the same is authenticated Apple ID. So, first of all, you have to The same iCloud account On all your devices and have it Enabled Wi-Fi and Bluetooth connections.
Activate Handoff on MacOS
Check the "Allow Handoff between this Mac and your iCloud devices". This is in the "System Preferences">"General"
By default, this option is enabled on both Mac and iPhone or iPad.
Activate Handoff on iPad and iPhone
"Settings">" General ">" Handoff "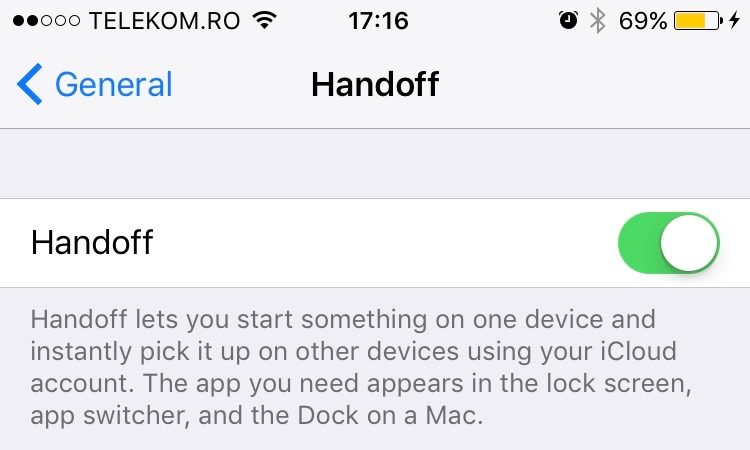 With the option enabled on devices that have the same iCloud account / Apple Authenticated ID, any text or image copied from one device, will be automatically present on the others.
The disadvantage of this feature is that if you have a text copied on the iPhone and you forget to save it in a note, and in the meantime you copy something on the Mac, that clipboard text on the iPhone will be lost.
How to copy / paste text or image from iPhone to iPad or Mac / MacBook - Clipboard Handoff