Starting with January 20 2020, Microsoft has decided to stop support for Security updates (security patches) gone Windows 7. That means after that date, computers and laptops with Windows 7 will be increasingly vulnerable to computer attacks.
In this sense, if you are a user of Windows 7, you need to consider upgrading to Windows 10 or to another operating system. Variants would be a few. but now it also depends on what you need to do on your computer and budget.
What operating system can we replace Windows 7

Linux is a good option. Ubuntu Linux distributions are very well developed and offer you solutions for both business and movies, music, etc. . But it is a little harder to do you are dependent on games and specific applications Windows.
Chromebook is an operating system developed by Google and it's pretty little known. It runs very well on computers with modest resources, and applications compatible with this operating system are for Android. Their installation is from the Google Play store. Inclusive Microsoft Office and other useful programs for students, home users or business.
MacOS - Operating system developed by Apple works only on computers and laptops produced by the American company. If you have a budget that allows, it's worth switching to a Mac Mini, iMac, MacBook, MacBook Pro or MacBook Air. You will not miss any application on Windows, you get free upgrade to every major version of macOS. In recent years Apple has released a major upgrade of the OS X / macOS operating system each fall.
The only problem would be with the games. Currently macOS does not support the games available on Windows.
How to upgrade free from Windows 7 to Windows 10
If you decide to give up Windows 7 and to stay in the "Microsoft Universe", you must know that upgrade from Windows 7 to Windows 10 it can be done for free.
Around the launch date of Windows 10, Microsoft offered free upgrade support for all users Windows 7, Windows 8 si Windows 8.1. Theoretically this support has been withdrawn, but in practice the free upgrade can still be done. It is ideal to have Windows 7 cu a valid license (serial key) to make it easy to switch to Windows 10.
#1 Free upgrade method from Windows 7 to Windows 10
When it was released Windows 10, Microsoft has prepared it to be available as an operating system update Windows 7. Windows 8 and Windows 8.1. It's good to start Windows 7 Updates and see if Windows 10 is offered as an "update". Most of the time this method is the most handy. During the update process you will see the message "Get Windows 10". After the updates process, you will have it installed Windows 10 with the latest updates.
#2 Free upgrade method from Windows 7 to Windows 10
If the above method does not work, download the ISO image (Download in English Windows 10 Disc Image) to Windows 10 from the official Microsoft website (here) and do normal installation of Windows. This can be done from DVD, Bootable USB stick or directly mounting the ISO image in Windows 7.
During installation Windows 10 the license key will be requested.. You can skip this step and do it activation Windows 10 later or you can enter the license key from Windows 7, Windows 8 or Windows 8.1.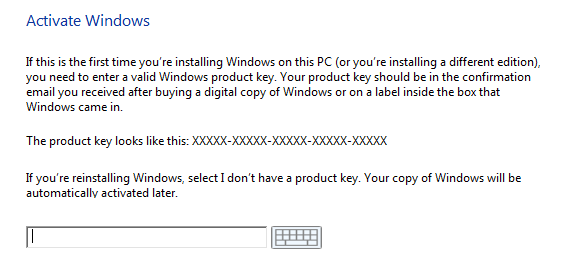 #3 Free upgrade method from Windows 7 to Windows 10
Install Windows 10 and jump over license key and over warning messages. It is not a method in accordance with good practice but it is a way left open by Microsoft. You can not register Windows. It will be fully functional. You will be able to install applications and run complex programs. From time to time Microsoft will request you through various system messages to activate Windows. You can't customize too much desktop with the system folder icons, and in the lower right corner there will be a message on the screen warning you that you are using a copy of Windows Unregistered. Evaluation Copy. It is a convenient exchange, however, we would say.
How can we upgrade for free from Windows 7, 8, Windows 8.1 to Windows 10