A USB stick is the most reliable solution for data portability. Within the storage space available, it can save pictures, movies, documents, programs, applications and other more or less important data.
The USB stick, however, has a big disadvantage. The smaller it is, the more likely it is that we lose it and the data stored on it will reach foreigners or people who should not have access to its content.
The best solution to protect our data stored on a flash drive (USB stick) Is its encryption password.
How can we encrypt and password a USB Stick on macOS or OS X?
1. First, connect the stick to the Mac and we are not sure that the data we need. All content will be removed during the encryption process.
2. open application disk Utility (application installed on all OS X / macOS systems) and select from the left, flash drive that we want to encrypt. In our case: Kingston DataTraveler Media 2.0.
3. After you select, we click on the button "Erase"/" Delete " top of the Disk Utility application. In the box that opens choose a name for USB memory ( "encrypted memory"In this case) and the"Format"Select options: Mac OS Extended (Journaled, Encrypted)
4. This will open a dialog box where you are asked to enter the password twice for encryption and a "hint" that you remember what password you have chosen.
5. Click "Choose" and then click "Erase" in the other dialog box. The encryption process will clear all existing data on the USB memory and will set a password for accessing the data.
Upon completion of the encryption process, you have a USB stick password.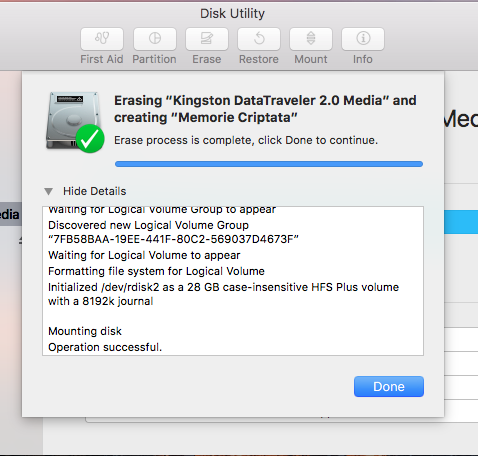 Done. ;-)
Disconnect and reconnect the USB memory to the Mac, to test whether it was encrypted properly. When reconnecting to a wax You set your password in an encrypted format.
You can choose to check the box "Remember this password in my keychain"To not need to enter your password each time you access the USB stick from your Mac
As a complement, the stored content will not be accessible in any way from one Windows PC.
How can I password protect / encrypt a USB stick - MacOS / OS X Encrypted Flash Drive