Microsoft Office 2010 comes with several new features to the earlier versions of Office. One of these features is the possibility to save documents in PDF format (Acrobat Reader) Without having to install a addon for this. The advantage of saving documents in PDF format is that users will not need to install Office suite to read or edit those documents.
Save an Office document in PDF format 2010 can be very simple (a few clicks) and requires only a short time (a few seconds).
How to save a Word file Office 2010 in PDF format:
Open the file Word 2010 you want to save it as PDF (Also You can create a new file you then save it as PDF)
Click on File (Top left corner) and click Save As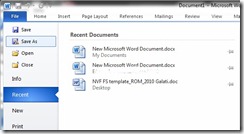 In the newly opened window, in the field of law Save as type (Bottom of window) select PDF and click on Save.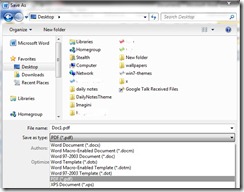 And ready, you create a new PDF file using Microsoft Office 2010.
Note: Although the tutorial was tested using Word 2010, it is compatible with 2010 Excel, Visio 2010, 2010 InfoPath, OneNote 2010, 2010 PowerPoint, Access and Publisher 2010 2010.
How can we save an Office file format 2010. PDF