Windows Store is one of the most important Feature Links the new operating system Windows 8Through its users can install modern applications computers, tablets or smartphones with Windows 8 provided. But very few users know where they are installed or stored modern applications in the system. And most likely there are enough people who want to change the installation location them from system partition in another partition to save space.
How to access the location where the modern applications are installed in Windows 8?
By default, Windows 8 stores modern applications installed from Windows Store in the folder WindowsApps from Program FilesBut it is hidden, and users who want to see this folder, you must select Show hidden files, folders and drives in tab View in folder Options (To open folder Options click on the tab View> Options> Change folders and search options).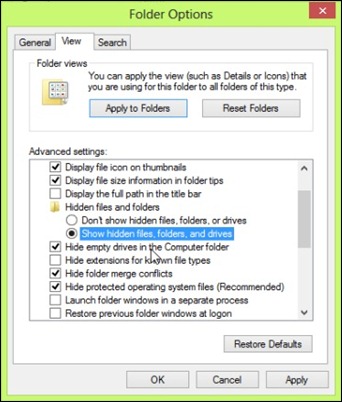 Also, to access this folder (WindowsApps), Users must first chown it (take ownership), Or they will be greeted by the error message "You have Been Denied permission to access this folder. To gain access to this folder you Will Need to use the security tab. "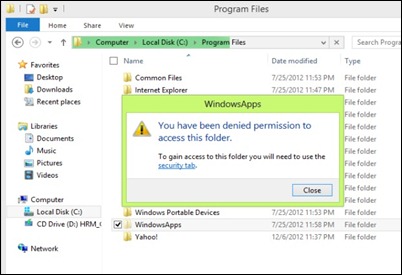 After they take over the folder WindowsApps, users will be able to see its content, respectively subfolders containing Modern applications files, And also will find how much space they occupy disk.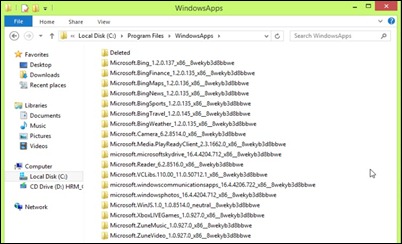 How can we change the installation location of modern applications in Windows 8?
If you wish to change the installation folder of modern applications in Windows 8Or to save space on the system partition or folder to access without change security settingsYou have to make changes in Windows registry.
open registry Editor (type: Windows + R to open RunThen type regedit and click on OK)
browse by way HKEY_LOCAL_MACHINE \ SOFTWARE \ Microsoft \Windows\ CurrentVersion \ appx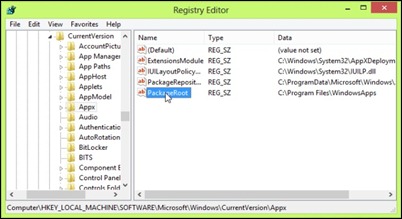 in the right pane, you will see the entrance String PackageRoot, Whose value is the default location for installing modern applications (C: \ Program Files\WindowsApps)
to change the default location for installing applications from Windows Store, you must first the key owner to change the Appx (Left panel), then change the input value PackageRoot in custom location where you want to install modern applications (eg D: \WindowsApps).
Right-click the key Appx and select Permissions menu displayed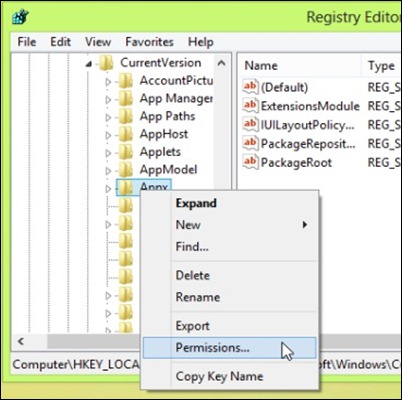 in the open window click on the Advanced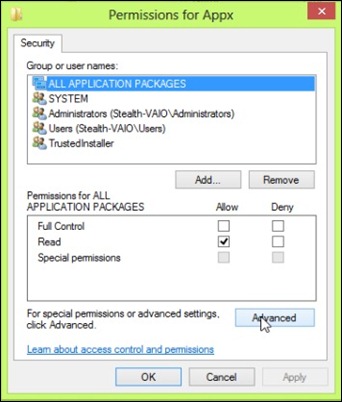 click link Change next Owner: TrustedInstaller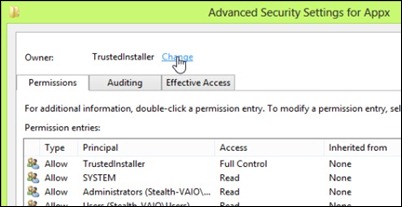 in Select User or Group Enter your user name (if you do not know, click on Advanced> Find NowThen select the desired user from the list displayed) and click on OK.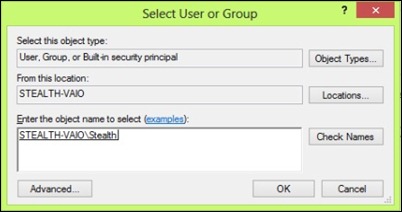 the permissions window, select the user did owner, then tick the box below Allow in the right Full Control and click on OK.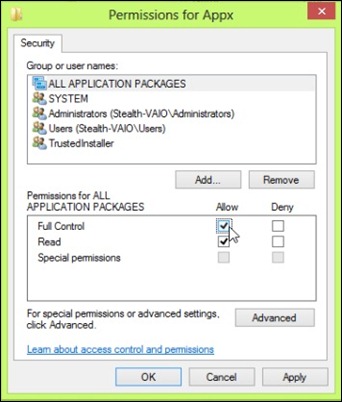 after you have taken control key's Appx, Change the input value String PackageRoot (Right click on it and select Modify) To change the default installation location modern applications.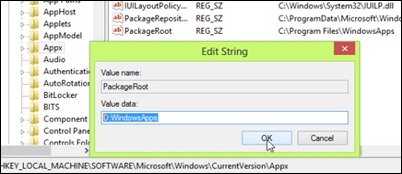 then close Windows registry si reboot for the change to take effect. After restart, modern applications Installed Windows Store will be installed in new location your chosen
Note: Before making the change to Windows Registry, it is recommended to uninstall both modern empty-in applications and third-party installed from Windows Store, otherwise they will no longer be able to be updated and will display error messages.
STEALTH SETTINGS - How to change default installation location for modern apps in Windows 8
How can we change the default location for installing modern applications in Windows 8