In Internet Explorer 10, Just as in previous versions, default search engine the browser is Bing. But unlike previous versions, the option to change the default search engine is available although still very well hidden. And IE users who prefer another search engine such as GoogleNeed to dig a bit to realize how can we set this as default search engine. In addition, modern version of IE 10 completely lacks this option, instead, changes made on desktop version of the browser will be effective for this.
How change the default search engine in IE 10 in Window 8?
open desktop (Click on the tile desktop in Start Screen or press the key combination Windows + D), Then click on IE icon from taskbar to open the browser in version for desktop.
in Internet Explorer, Click on Settings icon (Usually rotated) in the upper right corner of your browser, then select Manage add-ons menu displayed.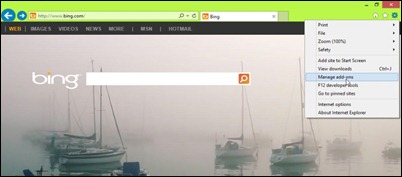 in the open window select Search Providers panel Add-on Types (Left), then click on the link Find more search providers the bottom of the window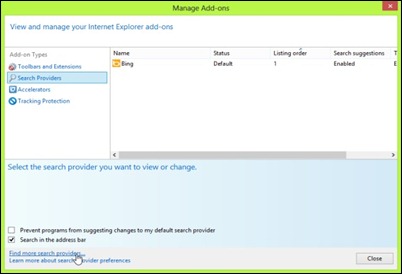 displayed in the gallery, select your favorite search engine (eg Google), Then click on the Add to Internet Explorer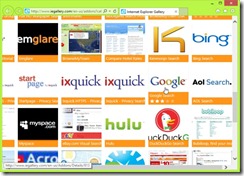 in the confirmation window, check Make this my default search providerThen click on add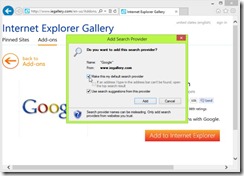 And ready your chosen search engine will be set as default both the desktop version of IE 10, as well as the modern.
Note: For the changes to take effect, most likely you will need to close and reopen Internet Explorer (IE close to the modern version, move your mouse to the top of the window, press left-click and drag the window to the lower the screen).
STEALTH SETTINGS - How to change default search engine in Internet Explorer 10 (Windows 8 tips)
How can we change the default search engine in Internet Explorer 10 (Windows 8 tips)