After introduction User Account Control in Windows Vista, microsoft increased security core files system so that users who want to replace or rename a file or folder system (located in Director root from partition C) Must first obtain full control (take ownership) On them.
With the launch of the new Windows 8Microsoft has changed little way they take control (or change the owner) On the file system, which is now different from what I knew of Windows 7 or Windows Vista. Although the difference is not very large or Windows 8 (command line remained the same) Was changed to change the owner's GUI. For example, there is a Windows 7 tab named OwnerWhile in Windows 8 this tab was removed, Owner information (And a link to modify its) Are displayed at the top of the window Advanced Security Settings.
Also, tab Permission, For a new object permissions can be granted in two different ways, Basic Permissions si Advanced Permissions (The latter option is recommended only for advanced users).
How can we change the owner (take ownership) of a file or folder in Windows system 8?
right click on a file or folder and select System Properties menu, then click on the tab Security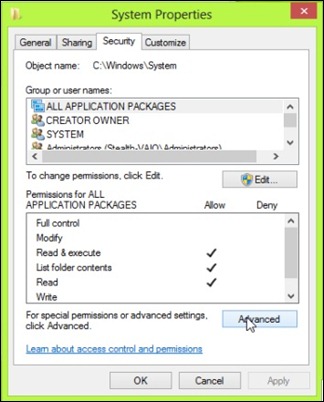 click on the button AdvancedThen, in the open window, click on the link Change next Owner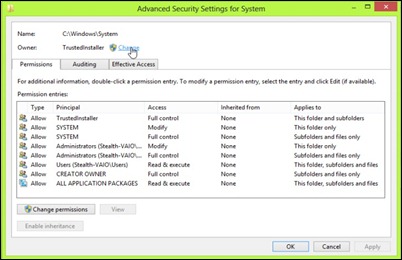 enter User name that want to take control (so you can select the list of objects available the system, click on Advanced, then Find Now and double-click the user you want to make owner) then click on OK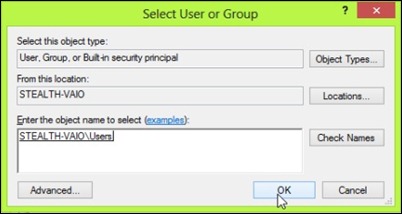 if you want to change the owner of a folder system, check Replace owner on subcontainers and objectsThen click on Apply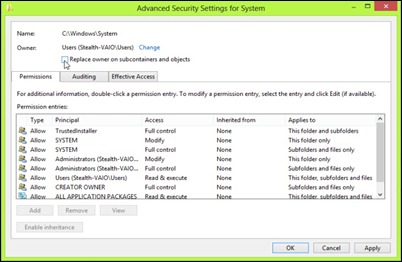 in afistat warning message, click OKThen give again click on OK

How can we change the permissions on a file or folder system?
After took control (changed chown directories) On a file or folder system, we can and modify its permissions
give again click on Advanced (In tab Security from Properties), Then click on the Change Permission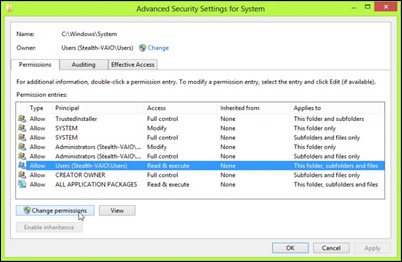 In the next window, select the user for which you want to modify for permission, click on the Enable inheritance, check Replace all child object permission with inheritable permission entries entries from this objectThen click on the Edit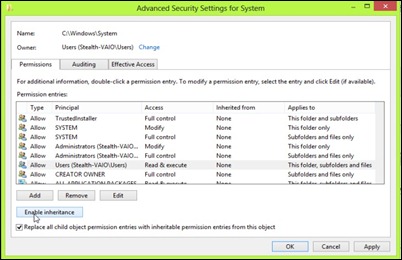 opens a window where you can change Bubble permissions user for file / folder that system. If you want to add and Advanced permissions (Not recommended if you have no idea what you're doing), click on the link Show advanced permissions.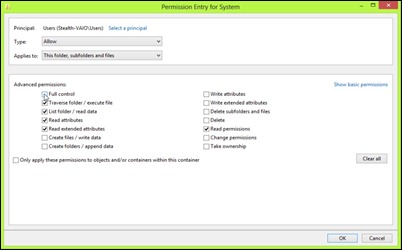 after you have finished setting permissions, click on OK.
Note: Remember that when you make changes to a file or folder permissions system, they can compromise system security or it may cause errors. Therefore we recommend that before making any change to create a restore point in order to give a system restore in case any problems arise.
STEALTH SETTINGS - How to Take Ownership and Full Control of Windows system files 8
How can we change chown and take control of your system files in Windows 8