One of the new features of introduced in OS OS X Yosemite is also used in an default ca Password processing and management of the system iCloud account password connected to the system. In previous versions of OS X, Users could choose themselves password management during the process of set up the systemBut in OS X Yosemite this is no longer available, users must enter the account password iCloud whenever you want to authorize running certain applications or performing certain changes in system settings.
In some cases, however, the use of account password iCloud the system administration password OS X Yosemite can be a disadvantage for the users (for example, it is possible that other users have access to Mac know your account password iCloud and do not want them to be able to perform changes in system settings; or, if you use a complicated password for iCloud can be pretty inconvenient to have to enter it again whenever you need Administrator privileges to perform certain settings). For such situations, however, users OS X Yosemite have the opportunity to reset admin password system and change it to one independent iCloud account (iCloud account password will not be affected).
How do I change OS X System Administration Yosemite (so as not to be used iCloud account password)?
open System Preferences (In Apple Menu), Then click on Users & Groups
click on icon in the form of closed padlock displayed in the lower-left corner of the window and enter Current management password (ie iCloud account password)
then click on the Change Password (Shown on the right)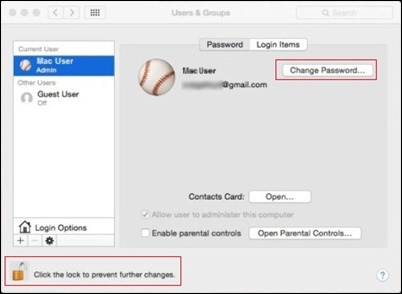 confirmation dialog appears, click on the Use Separate Password
enter again iCloud account passwordthen enter new password twice (the second time check) And click again Use Separate Password (Optionally, you press a hint for new password managementTo help you remember that your password if you forget it ever will)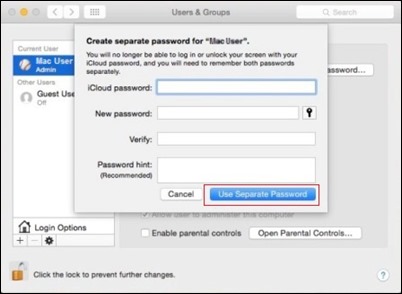 And ready. After you make these changes, you can use new password management whenever you need to do changes in system settings or to access certain applications requiring administrator privileges. Success!
STEALTH SETTINGS - How to change admin password in OS X Yosemite
How can we change the system administrator password in OS X Yosemite