OS installed VirtualBox are isolated, they do not have access to folders si files stored host computer. While this is most often an edge (due to security) Sometimes happen to want to Share UIM various files on the host computer virtual system (Or vice versa). Many users use to transfer files from the host computer through the virtual system IM applications or e-mailBut this becomes complicated when large fisierellor. VirtualBox site has but a option integrated application that simplifies File sharing site between computer and virtual system that many users have no idea.
How to share files between the host computer and door systems installed in VirtualBox?
to ui file share on host computer cu virtual system installed in VirtualBoxMust first install Guest Additions in VirtualBox: Roll virtual system that you want to share files on the host computer look, then click on Devices (In the left corner of the virtual machine near View) And click Insert Guest Additions CD Image menu displayed
after install Guest Additions click on Machine (Upper left corner)> Settings and select Shared folders (Last bottom left)
in the open window click on the add (First up on the right) to add a the shared folder (Folders that you want to add must be first share on the host computer look)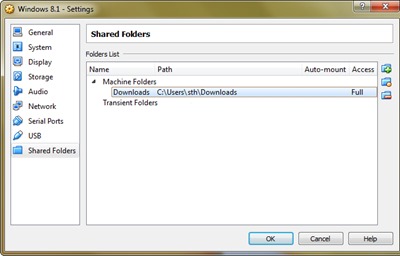 into law Folder Path enter path to the shared folder from the host computer to which you want to access the virtual system and the right to Folder Name enter name under the folder you want to appear in the virtual system
if you want to have access to the shared folder from virtual system whenever you run that system, check Make Permanent (It is recommended to check the option Auto-mount for the shared folder to be mounted automatically every time you boot the virtual system); that folder will be displayed in shared Folders under Machine Folders (If you check the option Make Permanent, the shared folder will be temporarily mounted, under Transient FoldersIt is offline the virtual system when that system is restarted or Closed). The virtual system will be full access the shared folder (read / write); if you want the virtual system can make changes in the shared folder to add it in VirtualBox check option Read-only
After adding a folder in the shared virtual system, it will be listed as network location (under Network > VBOXSVR).
Success!
Note: This sharing method between the host computer and a virtual system is functional for Windows or Linux virtual systems.
STEALTH SETTINGS - How to Share Files Between Host and VirtualBox guest computer operating system
How to share files on your computer with ui system installed in VirtualBox