Each Android User has at least one online account (Whether it be e-mail account, Such as gmail or Yahoo, Be it account Facebook or Twitter) Configured smartphone or tablet provided. While for some accounts is required permanent sync (E-mail, for example), receiving constant Notifications from other accounts (social networks or IM clients) May be synonymous with distraction at inappropriate times, such as during service or of important meetings etc. Unfortunately, Android does not provide users can always sync only certain accounts: Be synchronized all users have to do is manual synchronization (And time) for those accounts.
Sync Accounts Profiler is a Free Android application with which users can selectively synchronize online accounts with your smartphone or tablet supplied. The application enables them to organize si manageby defining conditions, rules si profile, Synchronization of multiple online accounts configured on the device with Android.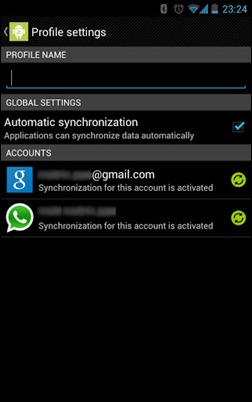 The most important options of Sync Account Profiler is the ability to create more profile si select accounts to be synchronized created for each profile separately. Also, users can set timing rules respective accounts (depending synchronization user location or WiFi network used or Internet connection - WiFi or Mobile Data), Or operating conditions of synchronization (Disabling function when the battery falls below a certain percentage, or enable synchronization in a certain time, etc.).
The application is available in paid versionWhich does not display advertisements, and offers users the possibility to create backup settings defined.
Download Sync Account Profiler (via Google Play).
STEALTH SETTINGS - How to selectively sync online accounts with Android
How can selectively synchronize online accounts with Android