If you have just replaced a phone iPhone one Windows PhoneMost likely you will want to transfer data on old device the new one (Music, photos, videos etc.). How can you do this quickly and without too much hassle? Foate simple, synchronizing new device Windows Phone cu iTunes.
How to synchronize a Windows Phone device with iTunes?
download and install the application Windows Phone app for Desktop (Specify the modern application Windows Phone Windows 8 / 8.1 It can not be used to synchronization with iTunesSo it is mandatory to download Desktop Application)
online Windows Phone device la computerThen launch the app Windows Phone app; first start the application, you will be asked to enter some information such as device name and the place where you want the application to synchronize data on the phone
select iTunes (If you do not use the app for the first time Windows Phone device and not remember what you select for synchronization, click on Settings in the upper right corner of the application, then under Sync music, videos and more from select iTunes and click on OK)
then the main interface of the application, select a time Data sections you want to synchronize (For example, in section music application will analyze data from iTunes and display a list of genres, artists si playlists existing, in which you can select only the data you want to synchronize) and click the button Sync the bottom right corner of the application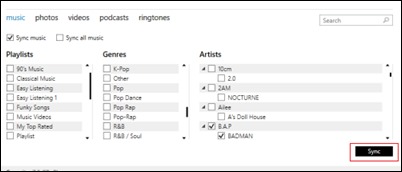 This way you can synchronize with the new Windows Phone device all data stored in iTunes on your old iPhone. Success!
Download Windows Phone app for Desktop.
Note: All through Desktop application for Windows Phone app can transfer / copy data on a Windows Phone device to your computer, in iTunes library. To do this, select tab phone in the upper right corner of the application, check the data you want to copy in iTunes and click Save to PC.
STEALTH SETTINGS - How to Sync Windows Phone device with iTunes
How can we synchronize a Windows Phone device with iTunes