When using personal data on a computer, Whether it be activities on the Internet (users si passwords for e-mail accounts, social networks or various other sites), licenses certain software or documents containing private informationCertainly we do not want this data to reach the hands of third parties. Unfortunately, deletion these data do not necessarily mean that we are safe, since they are hackers that can access a user's personal data even if they were deleted from the computer.
Privazer is a free utility which guarantees users that personal data that they want to wipe them can not be recovered after deletion from the computer (regardless of type: history online activities, Registry System si licenses for various software, files si documents old or history devices USB connected to the computer).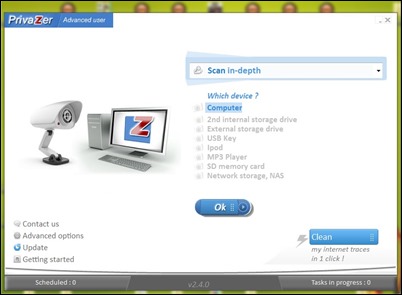 Privazer is simple interface and understandable. The application gives users two types of settings: Basic si Advanced user (Click on the type of scan to exchange between them) and the ability to install app or to use it as portable application. Users also can select scan mode (Scanning to identify all user activity traces left behind, or by scanning specific traces, depending on the type of activities performed) or device they want to scan (be it the computer or a external device connected to it) directly from the main window.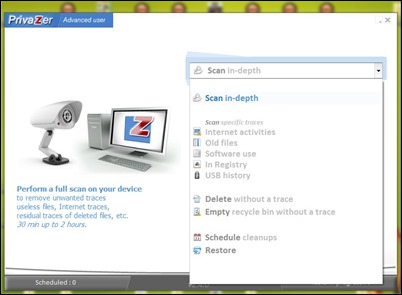 In the next window displayed by Privazer (Accessed by clicking on the OK), Users can select from dropdown displayed in the upper left corner drives they want to scan, and left half of the same window, you can select exactly scanning criteria. If you want to be removed immediately identified traces, check Start Cleaning before clicking the button Scan. If you want to check and clear identification of traces manual scan, leave that option unchecked.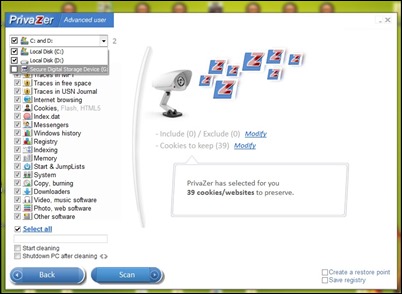 During the scan, will show Privazer number of traces activities allowed users depending on their type. After which scanning is completeYou can erase the traces found by clicking on the Chub.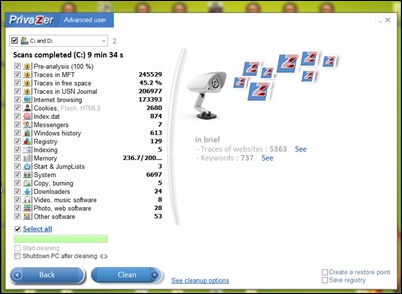 Privazer can erase traces of personal data stored in the system even after they have been deleted by users. Unlike other similar programs, Privazer identify traces kept more than half of free space on hard disksOffering users greater safety when it comes to their privacy.
Note: Application compatible with Windows XP, Windows Vista, Windows and Windows 7 8 / 8.1.
STEALTH SETTINGS - How to Completely remove private data from the computer
How can we completely erase personal data from a computer