Whether it is a account on one social networks Popular (Facebook, Twitter or Pinterest), Whether it is an account for a VoIP service (Skype, WhatsApp) Or a e-mail account (Google, Outlook or Yahoo), Most likely, at some point, I want to delete one or more of those accounts. Each account is created online online identity the user identity that many want to quit, sooner or later, for various reasons. But while it is easy to create a online account, Most often not as easy and delete it. And if you want to delete multiple accounts once online, the best solution is to use Web services such as Account Killer or Delete Your Account.
Account Killer is a web service (website) That allows users to remove (or to disable) Quickly created one or more accounts online. The main page lists all Popular sitesAnd users can choose what they want to give accounts (if the site you wish to delete an account is not listed, it can be searched using field Search on the main page). Another advantage of using Account Killer is that it displays including the degree of ease with an account can be deleted: white - Account can be easily removed; gray - The account is difficult to eraseBut possible; black - The account is practically indelible.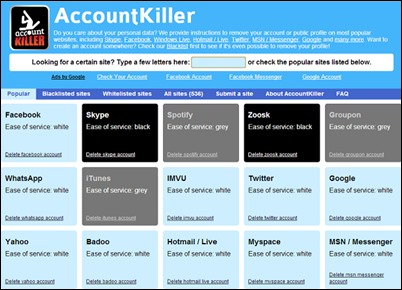 Delete Your Account is another site that provides consumers instructions si links you can access to delete online accounts created. Using this web service, users can delete your online identity created for Amazon, eBay, Facebook, Flickr, Google, Hotmail, iTunes, LinkedIn, MySpace, PayPal, tumblr, Twitter, WordPress, Youtube and many other popular sites.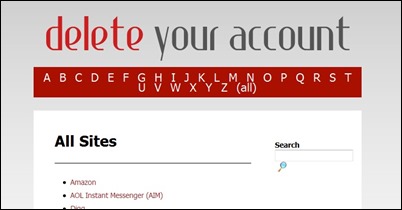 If you are interested to do some cleaning in online accounts created, and do not want to waste time trying to figure out how to make, use one of the two services described above. Success!
STEALTH SETTINGS - How to delete online accounts and identity
How can delete online accounts and identities created