When working with a large number of files (Regardless of type), thus we get in situations in which time we tangled in their name, or losing too much time to gasimfisierele we need. To avoid such problems, it is best to us keep clean archive deleting all old files, Which we know that we do not need.
When you want to make orders in files stored on the computerEspecially if they have similar names, it is recommended deletion by date they were created / downloaded / saved. Delete by Date is a free application to help users quickly get rid of useless data stored in the system, identification their being made on the basis of well defined:
according to date they were created / modified / accessed (Eg can delete all files created on a certain date)
according to period in which they were created / modified / accessed (Such as all files accessed within a certain time / days)
according to File Type (Such as all pdf files after a anumta Modify date)
according to size (size) files (Eg all txt files created before a certain date, with size greater than / less than / equal to 15KB)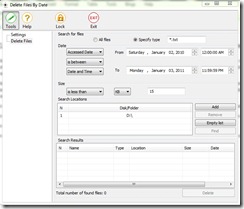 In addition, the application offers its users and ability to block others from thisTo prevent the deletion of files without their consent.
Download Delete Files by Date v1.0.
Note: The application is compatible with all versions of Windows XP, Windows Vista and Windows 7.
How can delete files from a PC depending on the date they were created