Although 8 Windows Consumer Preview was released than a month ago, the majority of testers this versions of Windows looking forward to the final release, 8 Windows RTMWhich will take place later this year.
If you are among those who use daily Windows 8 Consumer PreviewOr just to familiarize with the new Metro interfaceCertainly have noticed watermark placed microsoft pe desktop, Similar to the 7 Windows Beta, Namely "8 Windows Consumer Preview. Evaluation Copy Build 8250". For those who do not want to be reminded every time I start my computer that uses a beta version of Windows 8We present in this article a tool with which may Watermark customize the Microsoft or completely get rid of it.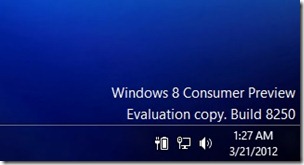 My WCP Watermark Editor is a application small and free with which Windows users can 8 Consumer Preview remove watermark The desktop system or to modify it according to your preferences.
How to Use My WCP Watermark Editor?
First, because application to work properly recommend its launch in Administrator privileges (Right click on the file .exe and select Run as Administrator).
If you want to remove all watermark on the Windows desktop 8 Consumer Preview, then click on Remove all Watermark then click on Apply. If you wish to change the Watermark for it to display what you want, change the displayed text in fields application (especially the fields below Edition si Restriction notes).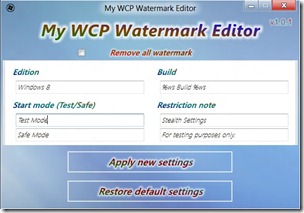 Then click on Apply si restart your computer. After restart you will notice is that the watermark has disappeared from the desktop, or it will display your desired text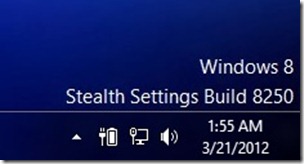 Note: The application does not require installation. It is recommended that before using it to create a restore point to avoid possible unpleasant consequences (do not forget it's still a beta version of an operating system).
STEALTH SETTINGS - How to remove or edit Windows 8 Consumer Preview Watermark
How can we remove or edit watermark on the Windows desktop 8 Consumer Preview