Today, almost all users computers use WiFi networks to connect the Internet. The majority of supporting devices WiFi and have the option of automatic connection on a WiFi network when the device is in its expansion area. If used to connect to WiFi networks often from different locations (airports, cafes and other hot-spots public), most likely you have saved a fair amount of profile WiFi networks on the device / computer used. While some locations with WiFi networks are visited more often, they are most likely profile which have only been used once. In addition, even profileFrequently used ones can sometimes create connectivity problems, and to solve these problems, users need to remove full the informations saved about profilerespectively (which does not happen if we use the option Forget Network).
How can we delete a WiFi network profile in Windows 8.1?
If you are using Windows 8.1 and you want to make cleaning profilethe saved WiFi in your computer, you can delete from them by following the instructions below:
open a Command Prompt with privileges administrator and type the command netsh wlan show profiles to display a list of all WiFi networks in which the computer is connected to the last Resettlement System si profilethem
identified profilethe ones you want to deleteThen type the following command for each of them:

netsh wlan delete profile name = "profile" (where profile the quotes are replaced by profile name thatFor example dlink 15)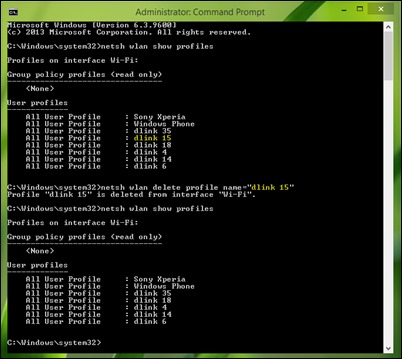 then open registry Editor to completely remove the traces that the system profile
navigate to HKEY_LOCAL_MACHINE \ SOFTWARE \ Microsoft \Windows NT \ CurrentVersion \ NetworkList \ Profiles
under the key Profiles You will discover more subkey sites, Each representing a network profile (WiFi or Ethernet)
Select each subkey in hand and check profile name in the right pane (it is displayed in input value String ProfileName)
When you identify the profile you deleted, right click on the appropriate key and select Delete menu displayed
So you completely delete a profile registered in the system network. Success!
STEALTH SETTINGS - How to completely delete a WiFi Network Profile in Windows 8.1
How to delete a WiFi network profile (WiFi Network Profile) in Windows 8.1