Most times, when computer Our infected with malware (Virus, trojans, spyware and other wonders genre), this does not happen because we do not have a antivirus Program installed, but despite that we use antivirus program (no matter how efficient may be). And once arrived in computers, some malware types prevent running security programs (Including antivirus), making it a little difficult to disinfect those computers.
KillEmAlit is free application for Windows with which users can turn off all processes running in the system (except those required to run the system), including processes run automatically in background (And not only) malware or processes and unstable applications or unresponsive, leading to system crashes.
How does KillEmAll?
When launched, the application forces automatic termination of all processes running in Windows (Including open windows - explorer.exeAnd processes and services running in the background), except core processesNeeded for running OS. Thus, if malware infection, the application enables users to get rid of them or wiping them off after their processes manually or using other utilities.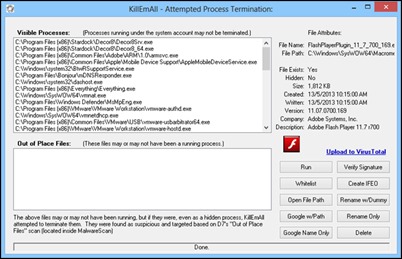 KillEmAll can be run in two special ways that can be accessed by holding down keys Shift or Ctrl when it is released. Module Services (KillEmAll + Shift) allows the application to run continuously in the background and restart if stopped / finished by malware to ensure fulfillment tasks. Module Debug (KillEmAll + Ctrl) Enable completed by one (One by one) to running processes.
All visible processes are shown on the left. Selecting a process from the list, users can restart, to remove, to check (Such signature and also information about it found on Google), Open location it was rename or add in whitelist (Because it would not be done when the application will be run next) the process. It also allows users to KillEmAll upload process online, The Whole virus, a virus-scanning service. It analyzes suspicious files and processes through a series of scans using popular antivirus engines and effective (select then click the link Upload to Virus total).
Note: Compatible with Windows XP, Windows Vista, Windows 7 and Windows 8 / 8.1 (32-bit and 64-bit.
STEALTH SETTINGS - How to terminate suspicious or inessential processes in Windows
How can we end the suspicious or useless processes from Windows