One of the biggest limitations when it comes to iPhone (Or any other iOS mobile device) Are restrictions regarding content transfer. Specifically, when you want to transfer content from a iOS device using a computer other than that to which the device is synchronizedWe are forced to iOS device resetAnd then synchronize it with the new computer. In addition, in default mode, the content transfer can be done only through iTunes, And by using a USB cable.
If you wish to transfer various files from one computer to iPhone (Or vice versa) and may not provide a USB cable and your computer is not already synchronized with iOS device, these instructions will definitely be useful. The only condition for them to be feasible is that iPhone have jailbreak (Since it is necessary to install a applications available Cydia).
How to transfer files from iPhone to PC and vice versa via WiFi as root user?
open Cydia and wait to load all categories available. Navigate to the tab sections and select networkingThen give tap on OpenSSH (You can also directly select the tab Search and search OpenSSH)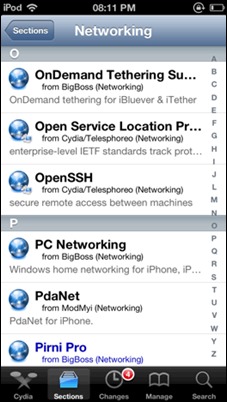 give tap the button install in the upper right corner, and after the installation is complete return to Cydia home screen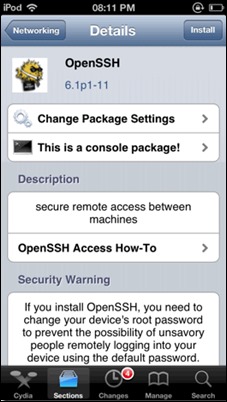 computer on which you want to connect a device with iOS install FTP client (FlashFXP, WinSCP etc.).
in FTP client installed insert iOS device's IP address (You are connecting to a wireless networkThen giving tap the blue arrow next to the WiFi APN), The number for Port (This is usually already set, if applicable, the number is 22), Then user si password (By default, the user is rootThe password is Alpine) And click on Login / Connect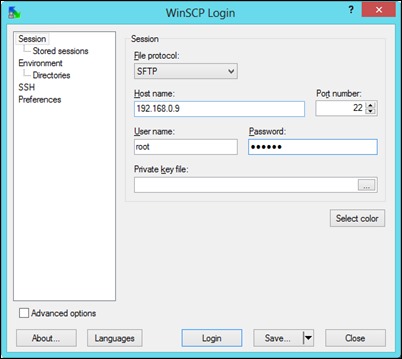 After which iOS device connects to computer, So you can view the files on your computer and your device, shown in adjacent panels. To transfer files between them, select them and drag them from one panel to another.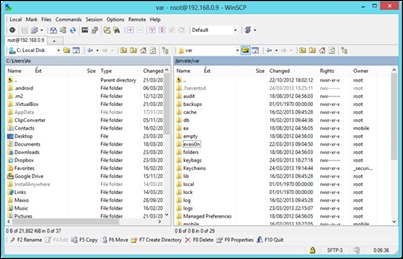 Note: Pay attention when working as root user on an iOS device, any accidental deletion of a file in it can have serious consequences, such as the impossibility of boot device.
STEALTH SETTINGS - How to transfer files from PC to iPhone via WiFi (Root User)
How can transfer files from PC to iPhone via WiFi (Root User)