After two weeks Microsoft products has launched Windows Update 8.1 1 (equivalent to Service Packs for previous systems Windows), It came bundled with a number of improvements, fixes for different system errors si Security updates. Among the most important Feature Links this update include the ability to fix (pine) modern applications in Taskbar, display Taskbarin modern applications and adding buttons to close modern applications or them minimize in Taskbar. Also they were added buttons Power si Search in Start ScreenAnd right-click tile sites Start of displays context menus (This feature was already available in Windows 8.1 versions touch).
If you recently purchased a computer cu Windows DO NOT preinstallOr need to make a Resettlement System and you have license code for Windows 8.1But for Windows 8, it is not necessary to upgrade to Windows 8.1 and then only at Windows 8.1 Update (available for free by Windows Store), But you can upgrade from Windows 8 directly to Windows 8.1 Update following the instructions below.
How to upgrade directly from Windows 8 to Windows NEVER Update?
open Windows Store from Windows NEVER Start Screen
in Store, click on Upgrade to Windows 8.1 for free
you will notice that although the update is mentioned only at Windows 8.1, also included in the options Windows 8.1 Update (so when you upgrade the system to Windows 8.1, it will be done automatic and upgrade to Windows 8.1 Update)
click on the button Download displayed to begin download setup files for Update (during the download process can vary from several minutes to several hours, depending on your internet connection speed)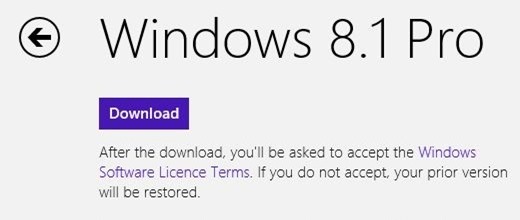 After the update files are downloaded, Windowsit will automatically start the upgrade process. Success!
Note: To make this upgrade, you need at least 5 GB free space on your system partition.
Careful! if you do direct upgrade of Windows 8 la Windows 8.1 Update, then you may not uninstall this update (As is possible in case upgrade of Windows 8.1 la Windows 8.1 Update).
STEALTH SETTINGS - How to directly upgrade from Windows 8 to Windows 8.1 Update