Windows 8.1 was released microsoft to solve a series of problems Operating system Windows 8 and to address some user complaints such as failure To boot to the desktopThe lack of a Start button and too much rigidity Start Screen's.
For those who have waited for this Update, Windows 8.1 is now available to download in Windows Store. All users Windows 8 will receive (if not already done) a notification in Windows Store with the free microsoft to make upgrade the new operating system.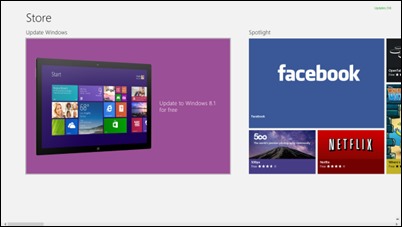 Upgrade of Windows 8 la Windows 8.1 is relatively without any problem and, most importantly, freeSystem, retaining both desktop applications installed and on the modern, files or settings applied by users (basically update it's no different from a installing a Service Pack or security update made Windows). But if you did Windows upgrade to Windows 8 8.1 Preview from Windows Store after a few months, although the update is applied as for Windows 8 (and all free), All applications will be reinstalled (The good news is that personal files will be kept).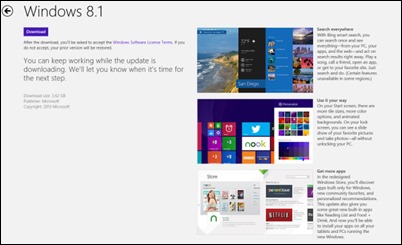 If you installed Windows 8.1 Preview using ISO image installation, you can upgrade to Windows 8.1 all through Windows StoreBut you will need a license code for Windows 8.1 (microsoft announced that 8 licenses for Windows will not work the systems which have been carried out clean installation version of Preview, Where before you run a Windows 8Will be Reinstall that before upgrading to Windows 8.1 for not having to buy a new license).
Upgrade from Windows to Windows 8 8.1 (for free via Windows Store).
If upgrade option is not available in the Windows StoreUsers have an opportunity to 8.1 upgrade to Windows via Windows Update (Change PC settings > Windows UpdateThen check which are available for system updates and install them).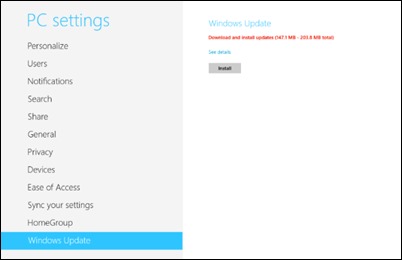 users Windows 7, Windows Vista si Windows XP who want to go to Windows 8.1 can buy a copy of the operating system $ 120 (Or $ 200 if you want a Professional edition).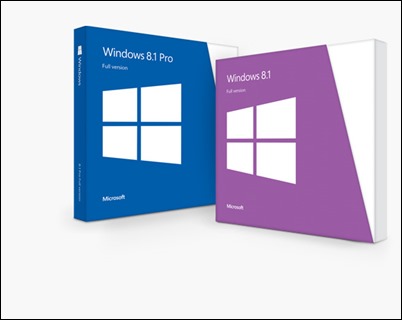 Download Windows 8.1 from Microsoft.
Note: Windows 7 users can upgrade to Windows 8.1 through Microsoft Upgrade Assistant (all personal files will be kept, but applications will need to be reinstalled without exception, including the Microsoft Office Suite). Windows Vista and Windows XP users will need to do a clean installation of the system.
STEALTH SETTINGS - How to upgrade to Windows 8.1
How can we upgrade to Windows 8.1