If you happen often forget or do not pay attention to what locations are Saved various files downloaded from the Internet (Although most of folders downloaded are saved in default locations or locations set by the user, in some cases, files can be saved in folders different; for example, browser Firefox set locations where downloaded files are saved according to servers from which they are downloaded) a simple solution to find files and also those locations where they are saved is to use utility OpenSaveFilesview. Also, using this utility, you can find and the recently opened files on your system
OpenSaveFilesview is a free application si portable (No installation required), that lets Windows keep track files / programs saved the system and whether they were or were not recently opened.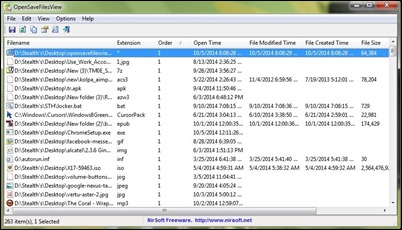 How does OpenSaveFileview?
The application displays a list with the latest programs and / or files saved in the system, providing a series of information about them, such as: name files, extensions their order they were opened or saved (the order is displayed according to each type of extension) last time files were opened (This information is displayed only for the last open files for each file) creation date or change these files, size files and their attributes.
How OpenSaveFilesview No installation required to run the utility you just need to double click on it. Also, using the application does not create and do not change dll files the system; information displayed by OpenSaveFilesview are taken from Registry System.
Download OpenSaveFilesview 32-bit.
Download OpenSaveFilesview 64-bit.
Note: The application is compatible with all versions of Windows starting with Windows 2000.
CreditNirSoft
STEALTH SETTINGS - How to check which files were recently opened or saved in Windows
How can we check which files were recently opened or saved in Windows