users Windows who want to test latest version of Windows 8 launched, namely Preview releaseMust first check if processor (CPU) Endowment supports this computer operating system. Even if the Minimum system requirements they announced Microsoft It is specified as the processor has to be 1 GHz minimum, Many users have reported the inability to install Windows 8 RP on a PC higher CPUBecause of its incompatibility with the latter OS, the following error message:
"Your PC's CPU Is not compatible with Windows 8. "
How to explain this?
Error of incompatibility between CPU and operating system appears when trying to install Windows on a computer 8 RP that do not support these sites feature: PAE (Physical Addresses Extension) NX (No-execute Page Protection) and SSE2 (Streaming SIMD Extensions 2). If you count Among those who got acquainted with this error message, try the NX feature enabled in BIOS, in Security Settings. If this feature is available under the tab Security you will see entries NX or XD. If this feature is not available, unfortunately there is currently no way to allow Windows installation on the computer 8 you (even if the installer for Windows 8 commercial not check if the PC supports PAE feature sites, NX and SSE2 as Microsoft system will meet errors during setup process). For more details download and read document published by Microsoft on this issue: PAE / NX / SSE2 Support Requirement Guide for Windows 8.
For those who either do not know how or do not want to get into BIOS (for safety / security) to check if your PC supports PAE, NX and SSE2, there is a much simpler method with which I can find this , namely a command-line utility named Coreinfo.
How Coreinfo use to check if the supplied PC processor supports Windows 8?
download archive Coreinfo, And extract the contents into a location easily accessible
open a Command Prompt and enter the path to the file Coreinfo.exe previously saved and give Enter (e.g C: Usersuser-nameDesktopCoreinfo.exe, where user-name is your user name)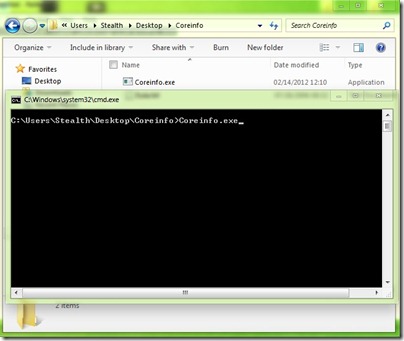 displayed list entries identified PAE, NX si SSE2. If the processor supports feature such sites, they will have character "*"In their own right.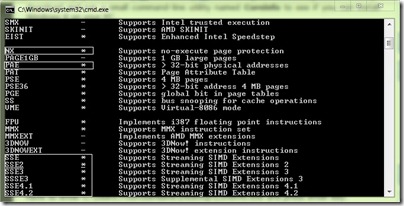 If the processor does not support this feature sites, they will be followed by the character "–".
Good luck!
STEALTH SETTINGS - How to check if your CPU supports Windows 8
How can we check if the CPU (processor) PC supports Windows 8