Many users Windows using Microsoft Office have not yet upgraded to Office 2007 or Office 2010 (So ​​much and we were not fans Microsoft Office 2003). In addition, there are users (even many) who either have not installed any MS Office suite, or use open Office (Free version of Office programs, make Sun / Oracle). Given that the popularity of documents docx relatively increased in recent years, it is necessary to use some converters for Office users 2003 or earlier versions Open Office 3.0 (As of this version Open Office can open MS Office documents characteristic 2007 / 2010) can view documents in this format (for those who use MS Office, microsoft has provided Microsoft Office Compatibility Pack for Word, Excel si Power point).
But for users who just want to be able to access content files . Docx (No need to edit these files) and do not want to complicate installing converters or compatible office suite, fastest solution to open documents in docx format is Docx Viewer.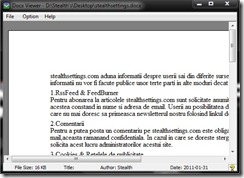 Docx Viewer is a application small (only has 600kb) and portable (No installation required) that turns docx documents in htmlThen displays them using a internal browser.
Note: Docx Viewer does not save docx documents in HTML and can not edit them in any other way. The purpose of this application is only displaying content.
STEALTH SETTINGS - HOW TO READ WORD 2007 / 2010 MICROSOFT WORD DOCUMENTS WITHOUT
How can we view Word documents 2007 / 2010 without having Microsoft Word installed