Most likely you had the opportunity to meet with plenty of files . NFO you began to use computerEspecially if used to download from sites torrent sites (The. NFO wine, usually bundled with downloaded files). If you ever wondered what these files are and why they are included in the package when you download something from the Internet, Well, files. NFO are encoded text files ASCII which, as their name suggests, contain information about software, documents or files (Video, audio, etc..) That accompany them (usually are information release, developer, credits, logos or, in the case of the torrent files, which are uploaded information about the packages available to download).

If you try to open a file. NFO directly by clicking (or double-click) on it, or they will be displayed information about the operating system instead of being displayed information stored in that file, or you will see a error message telling you that the file is corrupted or incompatible with System Information (This happens because in Windows extensions. NFO default associated with System Information / msinfo32.exe).

NFO Reader is a utility small (~ 300kb) which allows users Windows to view all information stored in files. NFO their existing computers.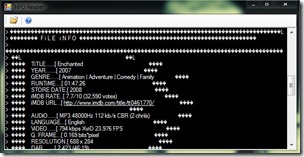 How to use NFO Reader?
Download and install theThen whenever you want to view a file. NFO, open NFO Reader, click on Open (Upper left corner) and select the file.
If you do not want to use third party applications to view information in the files. NFO, try to open files in Notepad (-Right click on the file and select Open withS) or other text editorsBut there is a risk (very high) that they can not be read or become corrupted.
STEALTH SETTINGS - How to read .nfo files in Windows
How can we view the information stored in files .nfo