Sometimes it is possible that PCKeep your personal property so much to security si privacy you, that you do not know your forbid any access to your hidden files and folders.
This problem (like many others) can be solved in registry Editor.
So if you activated option Show hidden files/foldersBut it was automatically disabled the second 2, open Registry Editor (Start Menu->Run-> Type in regedit->Enter) And follow the path HKEY_CURRENT_USERSoftwareMicrosoftWindowsCurrent VersionExplorerAdvanced.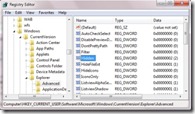 In the right pane, change the value entry (DWORD) Hidden the following:
1 - For see files hidden
2 - For not seeing files hidden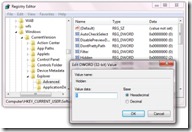 Et voila! Hidden files will no longer be hidden. ;)
Note: we recommend making a backup before modifying the registry.
How can you see the hidden files if the "Show hidden files "cannot be activated