Letter of Intent is most often attached to a resume, sending it motivating and providing additional information on the quality of candidates. Try to be polite and diplomatic since greeting and to address a specific person inquiring beforehand about who will handle the job and position within the company and if it is a female person trying to find out if Mrs. or Miss.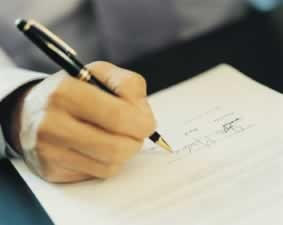 Introduction formulation can be written in several ways, depending on the situation:
When responding to a public offering on a particular post
… I am interested in the position of ……… for which your company made a public announcement on …… in the newspaper
or
… In connection with your announcement published in the newspaper …… on ……., I would like to express my intention to run for postul.
When you apply for a post that was not an offer, the wording may be:
… I am addressing you, in the event of a vacancy in the department ……, for an experienced person…
When the job request is made on the recommendation of an individual customer, employee or business partner old:
… I addressed you with this letter, also benefiting from the recommendation of Mr. X, who is one of your best (clients, former employees or business partners) of yours, who can provide, upon request, references on my experience professional who can prove it on the job of…
When intensify letter accompanies a job application, you need suplimetare more complete answers to simple form
Role letter of intent is to elucidate employer things less clear in VC or emphasize certain elements of the CV which is an advantage in the job by that candidate.
The second paragraph of the letter should point out candidate's strengths which will count in fulfilling the employer to fill the vacancy.
Epilogue cover letter should express interest candidate to meet with the employer for an interview, pricizndu the method of contact: phone number, fax or e-mail.
You do not have to finish this letter without sign it at the bottom after you have finished with closing formula Policies:
Sincerely,…, Respectfully,…
There are certain kinds of employers prefer letter of intent be written by hand, in order to form a first image of candidate the type of writing and contains hidden information about the personality of the candidate. if typed letter using simple fonts: Arial, Times New Roman, Verdana, Helvetica, Georgia, characters minimum 10 (recommend 14) and without diacritics if you post your resume and cover letter by e-mail. Try to use the same type of paper for CV and letter quality white. Divide the text into short paragraphs and make the letter easy and pleasant to read, it will send among the favorites before the interview.
Hoping this information will be useful in future battles we wish good luck for your dream jobs.