Sometimes when we try to open a file MS Office, Displays a error message we announce that file is corrupt and it can not be opened. Usually, the files become corrupted because of a poor transfer (Interruptions or otherwise errors occurred while downloading or transferring from an original file computer another or via Internet). Although this is true for any type of file, Microsoft thought to come to their aid users who encounter such problems office files, And added a Repair option a corrupt file in the latest versions of MS Office suite.
How can we spot Fiser corrupt office (Word, Excel, Power Point) using MS Office suite?
open a MS Office application (in case of corrupted file you want to repair it Word, Open a MS Word, if it is Excel, Open a MS Excel etc.) and click on File (Or round button logo Office), Then select Open menu displayed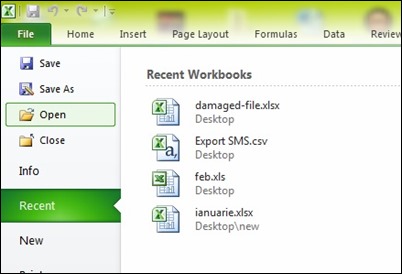 through dialogue Open File select the corrupted file that you want to repair it, then click the arrow next Open and select Open and Repair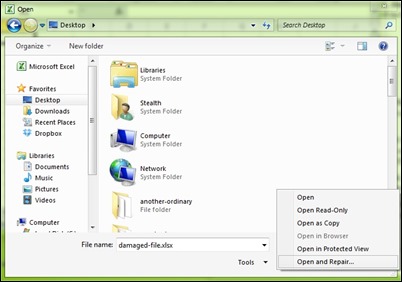 if the first time you try to repair the file, click on the Repair the displayed dialog, if not successful repair file, select Extract Data (Valid for Excel files of)

After which MS Office will repair and open the file, save it under a different name in your computer (for later access it)
Note, however, that this method makes no warranties to repair all corrupted filesBut can yield results for some of them (depending on the degree of corruption of files, how they have been affected and how many data contain errors).
Note: The type of files repair corrupt 2007 is available in MS Office, MS Office and MS Office 2010 2013
STEALTH SETTINGS - How to repair corrupted Word, Excel or Power Point files
Repair corrupted files as Word, Excel or Power Point