Windows 8 comes with its own antivirus Program, Namely the Windows DefenderWhich replaces the new operating system antivirus Microsoft Security Essentials. In any case, Windows Defender does not include option to scan folders from Windows 8 using right-click menuBut users are not satisfied with this, I can easily solve this by using a Registry hack. It will add you to the right-click menu of Windows 8 option Scan with Windows Defender (Which will work like option Scan with Microsoft Security Essentials available earlier versions of Windows).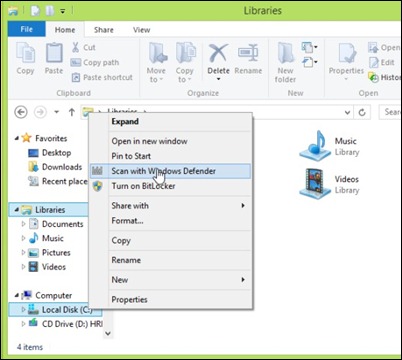 How to add Scan with Windows Defender in the right-click menu of Windows 8?
open Run (Using the key combination Windows + R), And type regedit and click on OK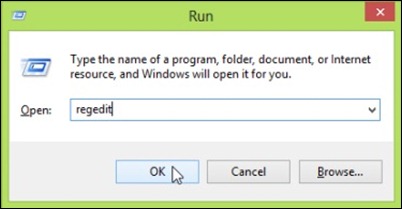 in registry Editor, Navigate to HKEY_CLASSES_ROOT \ Folder \ shell
under shell create the subkey WindowsDefender (Right click on shell in the left pane, then select New> Key menu displayed)
under WindowsDefenderIn the right pane, create input String Icon, Then give it value
%Time scheduleFiles \\%Windows Defender \\ EppManifest.dll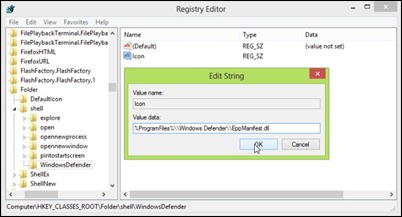 then, again under WindowsDefender (And also in the right pane) create input String MUIVerb, Which give it value
Scan with Windows Defender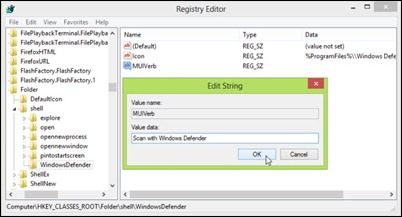 in the left panel, right click on WindowsDefender and create the subkey command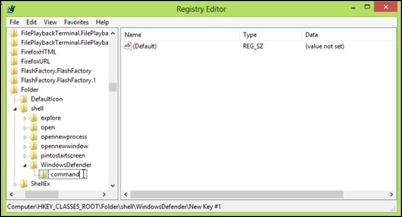 under commandIn the right pane, right click on the entry Default and give them value
"C: \ Program Files\Windows Defender \ MpCmdRun.exe "-scan -scantype 3 -SignatureUpdate -file % 1ES_ROOT \ Folder \ shell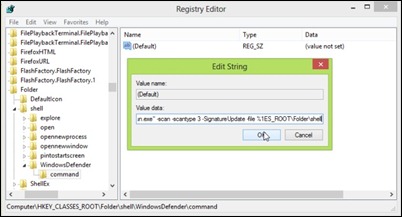 then close registry Editor.
When using the Scan with Windows Defender added, scan will take place in a window Command Prompt (If scanning is very fast, the window opens and closes immediately). If the scan detects system problems, you will be warned (and the window Command Prompt will not close).
Users who are not comfortable to carry manual changes to the system registryCan download the archive below, which contains reg files for adding and deleting their registry (where want to return the changes made).
Note: It is recommended to create a backup of the registry before making these changes (to avoid possible unpleasant consequences).
STEALTH SETTINGS - How to add Scan with Windows Defender option in Windows 8 Context Menu
How to add the Scan with option Windows Defend in Windows 8 Context Menu