Few users Windows 7 I know that with the installation of the operating system is installed on the system partition and Startup Repair Tool, Utility can be accessed by pressing lightly F8 (In some cases be pressed several times) during booting the systemWithout having to use DVD installation. But sometimes, when we want to access Startup Repair using the method mentioned, or click F8 too late (or forget to press), or we encounter a error message which says "Windows was unable to locate the required installation file [boot.wim]. Verify That the installation source is valid and restart the installation".
To not face such problems, the easiest would be to 7 add Windows Startup Repair option in the Windows Boot Manager 7 following the instructions below:
First download Windows System Repair 7 ISO (Care should be taken that the image is downloaded to the same number of bits with the system, 32 (x86) Or 64 (x64) Bits)
Extract the contents of the image in a folder system partition (To avoid possible errors caused by involuntary removal or corruption of files extracted)
Download and install application free EasyBCD
After opening the application, we click on the button Add New Entry left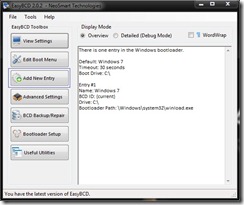 click on the tab WinPE from under Portable / External Media and select WIM Image into law Type
into law Name we write Windows Startup Repair 7 (Or the name that we want the option to Boot Manager), Then navigate to the folder where I unzipped 7 System Repair Windows image downloaded earlier, enter the folder sources and select the file boot.wim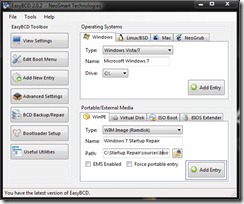 we click on Add Entry then give restart the computer.
After restart, during boot, we see that the Boot Manager appeared a second option, namely 7 Windows Startup Repair, which you can access quickly (provided they do not "walk" to the folder where you extracted Windows 7 System Repair) whenever necessary. Success!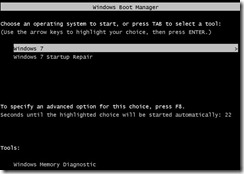 Download System Repair Windows 7 ISO x86.
Download System Repair Windows 7 ISO x64.
Note: To download images 7 System Repair Windows must have a BitTorrent client installed on your system.
STEALTH SETTINGS - HOW TO ADD ENTRY Startup Repair in Windows Boot Manager 7
How to add Windows Startup Repair in 7 Boot Manager