Sometimes quick access to folders is an advantage for most PC users. When you urgently need some information stored in one of the many folders scattered on your hard disk partitions method, the "traditional" access, while you "eat" a few moments, can be quite irritating. Why bother to open My Computer, and then partition that is looked folder and after that to get to your destination when you can go directly to the "end of line" via taskbar?
How? Nothing easier: Right click Taskbar will display its menu. From that menu select ToolbarThen click on New Toolbar.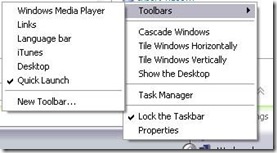 In the opened window find and select the desired folder, in this case it is the entire PC (My Computer), Then click on OK.
Such Taskbar will appear in My Computer menu, which you can quickly access folders on the hard drive. The method is valid if you want to access a folder directly "buried" in the bowels of the system without having to open many doors for it. ;)
Tested Windows XP and Windows Vista.
How to add My Computer to the Taskbar for quick access