Most common (though not the safest) method to keep secret various personal files (Or not) is that concealment them. How can we hide a file (Or even an entire folder)? Quite simply, accessing its properties (right-click on the file / folder> Properties) And checking the box to the right Hidden (Bottom of window). To then view hidden filesWe need to access folder Options (In XP we click on Tools in Menu bar in My Computer, In Vista si 7 we click on Organize in Windows Explorer), Then in tab View select Show hidden files, folders or drives.
But what they do not keep in mind the "corner" of hdd I hid those files? Or when we become curious about any other hidden files users access to the computer (and I am sure that most have this curiosity from time to time ...: D). Take the hand each existing folder would take time, which is a serious problem when time just missing us.
Find Hidden is a portable application (Requires no installation) created in order to help users in such cases. It identify all the files (or folders) hidden in a directory, search can be made according to several key criteria:
file type
file size
date they were created
date they were last accessed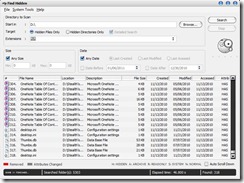 In addition, Find Hidden offers details hidden file attributes (Whether or not file systemOr if they are archived, etc), and search results can be saved in text formats (Fillet > Save List I). Also in Preferences interface can edit colors, date format and application skins.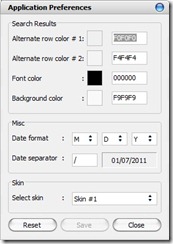 Download Find Hidden files and folders.
credit @opxbit.web.id
Note: The application is compatible with all versions of Windows XP, Windows Vista si Windows 7 .
How identify all the hidden files or folders on a system (Windows only)