Lately, the number of users who prefer to (re) install OS preferably a Bootable USB stick greatly increased, primarily because it increased the number of users netbooks / mini notebooks (They are not provided with unit CD / DVD-ROMInstead they have at least one USB port), Especially because installation is much faster than CD or DVD. In addition a USB-stick It occupies less space and is much easier to carry, durable and can be reused at any time.
For users who are fans so Windows XP and also Windows 7Or who have not yet decided to give up completely on a OS in favor of the other (and vice versa: D), the best solution would be to create a USB stick multi-bootable which contain installation files of both systems (Those who want to create a usb-stick bootable XP only or only with Windows 7 we recommend to go here or here). Also, these combinations can be selected: XP-Vista-Vista 2000, 2000-7.
How can we create a multiboot USB-stick Windows XP Windows 7?
To create a usb-stick multiboot XP / 7 you will need:
un 4 GB USB stick formatted minimum FAT32 (if Vista or 7 I am of 64 bit use a stick 8 GB)
WinSetupFromUSB
WinSetupFromUSB is a free application requires no installation (portable) And allows users to create a bootable USB stick containing two different Windows operating systems (in this case Windows XP and Windows Vista). In addition, create multiboot stick can be added (depending on preference) and UBCD (Ultimate Boot CD - Suite of software for diagnosis and repair of boot problems or HDDs) BartPE (o light version of Windows XP 32-bit) And various types of Linux operating systems.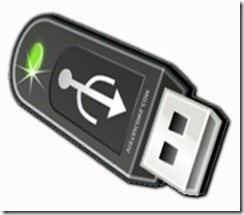 How to use WinSetupFromUSB?
run the application and make sure that the USB stick correctly detected
if the stick is already formatted FAT32 and has enough space for both operating systems, go to the next step; if the stick does not have enough space for the Windows installation files or formatted FAT32, use one of the options boot or RNPrepUSB (Integrated in WinSetupFromUSB) to prepare for the next step stick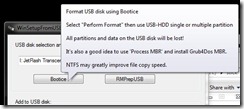 tick Windows 2000 / XP / 2003 Setup si Windows Vista / 7 / 2008 Server Setup / PE / RecoveryISO and browse folders containing all the installation files for Windows XP and Windows installation files 7 (you have the installation images of the two Windows systems, you can mount them on DVD-ROMs virtual (Virtual Clone Drive recommend), or you can extract their contents (in different folders) using WinRAR or 7-zip); optional you can choose to check and one of the other three options, but only if you have tool sites or those systems and, especially, if you know how or what they eat these. : D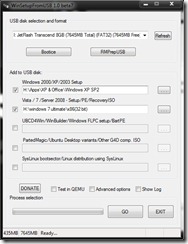 click on GO and empower yourself with some patience because it's very possible that the process of creating USB stick's multi-bootable to last-hour. But the wait worth it, because at the end you will be equipped with a multi-bootable USB Windows XP / Windows 7 that you will be able to use it to install these operating systems on as many computers as you want (provided they support booting from USB).
Note: WinSetupFromUSB is compatible with all Windows versiunila 2000, Windows XP, Windows Server 2003, Windows Vista, Windows Server 2008, Windows 7, 32-bit or 64-bit.
Credit @ MSFN Forums.
STEALTH SETTINGS - HOW TO CREATE A Multiboot USB STICK WINDOWS XP AND WINDOWS 7 WINTH
How to create a bootable USB stick with Windows multi-7 and Windows XP