Probably one of the most irritating of news Windows 7 it is Program Compatibility Assistant. Almost every time install an application on this system (especially when it comes to older applications but the system) after the installation process is complete, the same window "blooms" in the middle of the monitor warning us that "Might not have this program installed correctly"(Which, indeed, may sometimes be true, but to you whenever you happened? Once? Twice? Never?).
If and you bothered when Windows has doubts about proper installation of applications that you use / test, a good idea would be to Disable Program Compatibility Assistant to prevent irritating message to appear.
How can we disable Program Compatibility Assistant?
Program Compatibility Assistant can be disabled by following two simple methods, one involving a change in system services (Method available for users of all versions Windows 7) And one visiting Group Policy Editor (feature available for users 7 Windows Home Premium).
1. Disable Program Compatibility Assistant via Services
enter services.msc in Searchacquis in Start Menu and give Enter
then identify the list shown Program Compatibility Assistant Service
double-click on it then click on Stop and select Disable drop-down menu next to Startup type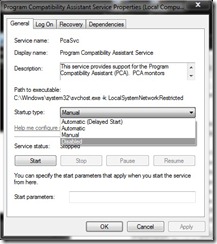 2. Disable Program Compatibility Assistant via Local Group Policy Editor
enter gpedit.msc in Searchacquis in Start Menu and give Enter
navigate to User Configuration> Administrative Templates> Windows Components> Application Compatibility
in the right pane, under Setting, Double-click on Turn off Program Compatibility Assistant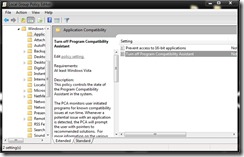 select Disabled and click on OK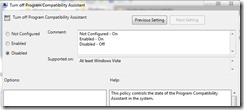 Note: Compatible with Windows Vista. To reactivate follow the same steps and select Enabled (in gpedit) or Manual / Automatic (services).
How to disable Program Compatibility Assistant in Windows 7