We've all experienced moments in which applications irritating that we use "crack"When our baby's world. And, as if not only pretty stressful problem in itself, Windows chose to turn the knife in the wound by displaying a pop-up/raport that our application has just announced that "blossomed" an error and must shut down.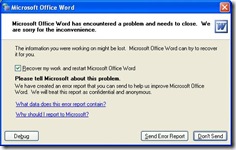 If you're tired of seeing this message every time you have an appointment with an error, then you have two options:
The first one reads: Right click on My Computer, select Advanced, Then click on "Disable error reporting"
If you choose the second, then go to administrative Tools, Looking Error Reporting Service, Sign in Properties and disable it. This will not stop errors occur, but at least you got rid of irritating message accompanying them. ;)
How to disable "Application has Encountered a Problem and Must be Shut Down" messages Windows XP