Many applicationsWhen they are installed, they come bundled with toolbars that, if we are not careful, it installed with such applications. Thus, shortly browsers we use are becoming increasingly crowded and increasingly work more difficult. In addition, the toolbarurile installed without realizing it, we can infect computers cu malware and thus compromise important dates on them.
If you are loaded and browser toolbars and become increasingly sluggish, Avast Browser Cleanup will help you fix the problem.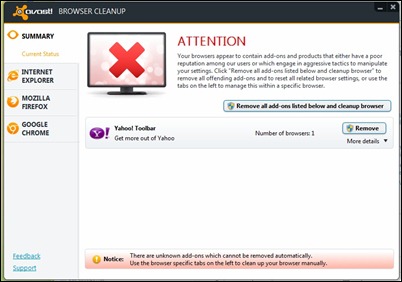 Avast Browser Cleanup is a free application si portable (No installation required) that help users to clean browsers toolbars si add-ons that crowded and slows their operation.
After you run the application, it detects all browsers installed in the system si lists all toolbars and add-ons installed. You can either choose to uninstall all add-ons toolbarurile and identifiedOr you can click to selectively uninstall of these, or you can select just a browser you clean it.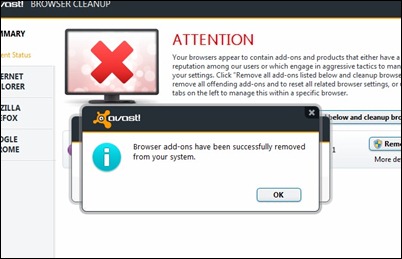 Also, Avast offers and Browser Cleanup option skip to uninstall add-ons with good ratings.
Avast Browser Cleanup comes with Avast antivirusHowever, if you use this antivirus (so you do not have installed on your system), you can use separately standalone version the application.
Download Avast Browser Cleanup.
Note: Application compatible with Windows XP, Windows Vista, Windows 7 and Windows 8 (32 and 64 bits).
STEALTH SETTINGS - How to uninstall all the toolbars from web-browsers with Avast Browser Cleanup
How to uninstall toolbars in Web browsers Avast Browser Cleanup