Microsoft Office and other applications Windows keeps everything Personal Information When you save a file. User name, computer name, company, date and time last edited are just some of the information "hidden" behind a simple file created with Microsoft Office.
If you do not want the impression to be kept in file details, operating system Windows Vista offers a solution to protect the confidentiality of such information.
To delete personal data from "Details"Of a Microsoft Office document should follow few simple steps:
1. Right click on the file and select "Properties".
2. Click on the tab "Details".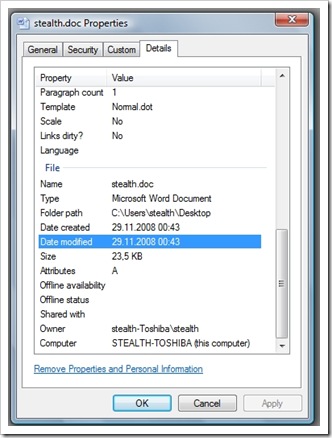 3. Click on "Remove Properties and Personal Information".
4. From the menu that opens "Remove Properties", check Remove the following properties from this file"Then click" Select All "and" OK ".
After you follow these steps personal data from Microsoft Office file will be deleted.
How to remove personal information from a Microsoft Office file