When working a lot with computerA way to increase efficiency and to better organize our tasks is used multiple monitors the same computer. In Windows 7, Adding a second (and third - where have two VGA ports computer / laptop) monitor can be configured very simply by two methods:
shortcut Keyboard: Use key combination Windows + P (where key Windows is the key with the sign Windows her)
Control Panel> Appearance and Personalization> Display> Change display settings (Or simply right click on Desktop > Screen resolution)

Using key combination Windows + P brings to the fore on Desktop un Quick Menu options (which can be accessed from Control Panel> Display> Connect to a projector), namely Computer only (Using only the primary monitor) Duplicate (displays the same desktop on both monitors), Extend (expand desktopon the two connected monitors) and Projector only (uses only the secondary monitor), from which you can select the most convenient version for you (usually when you connect a second monitor to a laptop, it is automatically selected by Windows Duplicate option).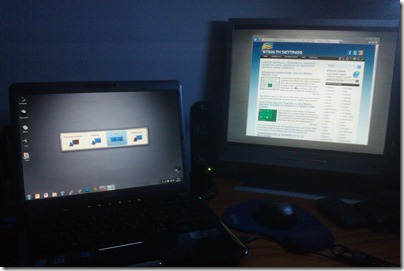 The second method is to configure multiple monitors in Screen resolution. 1 and 2 numbers displayed on the monitors will help you make the distinction between primary monitor and the secondary when you want to change settings for them (well, you can click the button Identify to ensure that they are displayed correctly).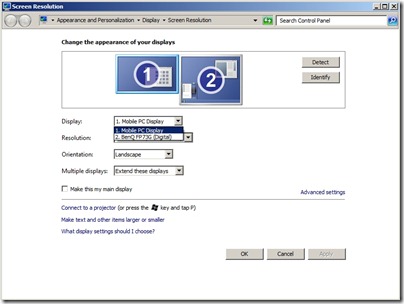 To set the display mode on multiple monitors use dropdown next Multiple displays, this one containing all the options in the quick menu displayed by the shortcut Windows + P.
STEALTH SETTINGS - How to use multiple monitors in Windows 7
How to use multiple monitors in Windows 7