application Posts for iPhone si iPad can reach as crowded as application Mail and I do not mean necessarily the number of messages received in general, but the number of unread messagesWhich can make reading all a mission impossible. Perhaps each of us had a few busy days or was left in an area with no signal for some time, and when the terminal iPhone or iPad reconnected to the network, received an endless number of messages, especially if we subscribe to the conversation iMessageWhich are respective application icon badge to display a figure almost as high as that of the application Mail.
This would not be any problem if all messages as important and want to read them sooner or later. So, after you read all of the people that matter to you, find that there are many unread messages that will make you lose several minutes just opening them.
Fortunately in iOS 8 the company Apple introduced a very useful feature in application messages, especially for situations such as those mentioned above. It will allow you to mark all messages as read instantly, without the need to open each conversation in part, to return to the list to open the following conversation unread and so on. Here's what to do to mark messages as read on the iPhone and iPad:
Open Messaging on the main screen of your iPhone, iPad or iPod touch.
Enter the list of messages and tap the button Publishing (Edit) At the top left of the screen.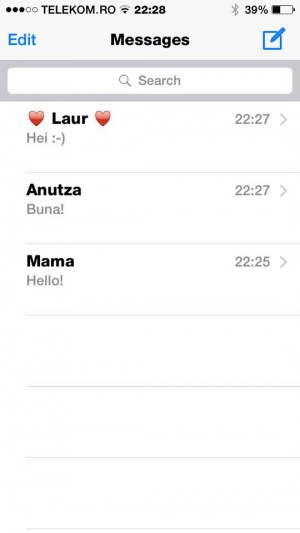 Now tap the button Read all (Read All) In the bottom left of the screen.
After pressing the button mentioned above, all the indicators of unread messages will disappear, including blue dot on the conversation, the total number of unread messages at the top of the screen and icon badge Messages application.
How to mark all messages on the iPhone or iPad as read