If you prefer the desktopul computer you to be as clean as possible (ie not to display too much icons) Or if you find that you "prevented" icon often about 's Recycle Bin but will not endure to give it the obvious reasons (arriving in deleted files Recycle Bin will deal further hdd space until they are deleted from it or may want sa reached restore some files to the Recycle Bin or you may want to periodically check how many files have been deleted from your computer - as long as they have not been completely erased key combination Shift + Del), There is a application with which you can move The Windows Recycle Bin in System Tray.
Recycler systray is a free utilityThat does not require installation (Extract only the contents of the archive and click on the file .exe) And allows users Windows give up icon 's Recycle Bin From the desktop, instead displaying it in taskbarNear the time and date. It will be opened and / or emptied directly systray (Right click on icon) and display each file contains a simple positioning the cursor over the icon or how much space the files occupy the Recycle Bin.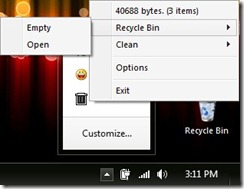 In addition, users can delete the application and temporary files (Temp files) Directly from the systray.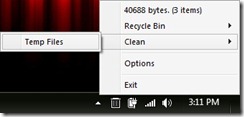 The first time the application will appear on the monitor message Manifest file has Been re-initialized. (This message will only appear only once, revived only if the manifest file will be deleted). Click OK, Then click again Recycler.exe systray.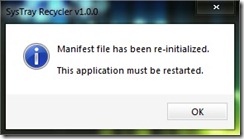 You can set run the Recycler systray with Windows or Automatic emptying the Recycle Bin depending on the number of files contained in Options.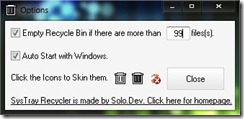 To delete the Recycle Bin icon on the Desktop in Windows 7 or Windows Vista, Right click on Desktop and select Personalize from the menu. Then click on Change desktop icons (Window left open), uncheck the box in front of the Recycle Bin icon and click OK. To remove the Recycle Bin from the Desktop in Windows XP, Use the application Microsoft TweakUI, Available at this link.
Note: To display permanently Recycler systray taskbar, open the System Tray and click Customize. Then select Show icon and notifications drop-down menu next to the Recycle Bin for the Tray.
* Credit@Solo.Dev deviantart.com
How to move the Recycle Bin in Windows Systray